Business
xQ sets up India's first video labs in Gujarat's Vadodara
Talking about the partnership, Simon Jacob, Co-Founder & CEO at xQ, said, "Video is the language of the future. It is to this generation, what reading and writing was to earlier generations.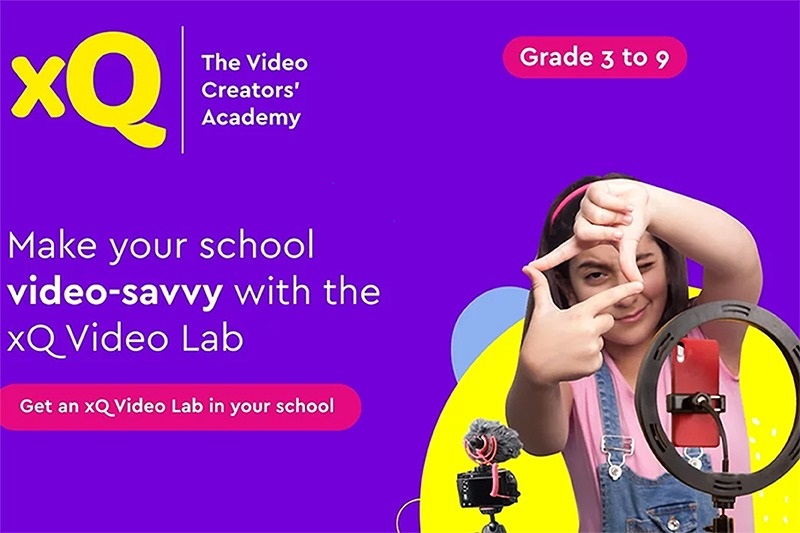 Ahmedabad: In a bid to promote video creation skills, xQ has partnered with Anand Niketan Maninagar Campus, Ahmedabad and St. Kabir Indian International School, Vadodara in Gujarat to set up video labs. These are the first video labs to be set up in Indian schools. The objective of this initiative is to teach students from grades three to nine about the basics of video creation (shoot, edit, and post-production skills).
Talking about the partnership, Simon Jacob, Co-Founder & CEO at xQ, said, "Video is the language of the future. It is to this generation, what reading and writing was to earlier generations. Hence integrating the 21st century life skill of video making with the school curriculum is critical. Video-making is no longer a good-to-have extracurricular activity. The creator economy has seen a rise from $1.7 billion in 2016 to $6.5 billion in 2019 and $9.7 billion in 2020. It is forecasted that this will increase further by 40 percent in 2022. We're grateful to schools like St. Kabir and Anand Niketan Maninagar Campus who have declared an extra 'video making' period in their time-table to give the skill its due importance. At xQ, we're obsessed with integrating video making with the school curriculum. Only when video making becomes an aid to studies, will it become a part of a child's everyday life."
The xQ Video Lab is a space within schools, just like a computer lab or a physics lab, which is dedicated to teaching video creation. At a competitive cost, xQ offers access to a thoughtfully designed video-creation curriculum, state-of-the-art shooting gear, and access to an e-learning platform that allows students to continue learning & practicing their video-making skills at home.
Harpreet Shah, Director at Anand Niketan Maninagar Campus said "The COVID-19 Pandemic has renewed interest in goals that should be pursued by schools in an era that is uncertain and changing rapidly. At Anand Niketan Maninagar Campus, we encourage our students to acquire 21st-century life skills because that's what helps students to do well in their life. Video creation is one such important life skill and we are glad to partner with xQ as their video labs will help our students build confidence in expressing themselves clearly. What I especially like about it, is that it helps students to do well in their academics as well. That's a win-win situation for us."
As one of the most dynamic, flourishing, and ambitious co-educational institutions in Ahmedabad, Anand Niketan Maninagar Campus has over 1500 + students from Class PG to XII under the CBSE curriculum. A holistic approach to the curriculum with exciting international exposures and inquiry-based learning is what makes Anand Niketan Maninagar Campus an exceptionally vibrant institution in the academic community.
"When children create videos, they have to research, get creative, collaborate, self-learn, and make assignments on their own and in collaboration with others. I believe students learn better when they spend time learning and figuring out things on their own and practicing what they learn. xQ's learn-at-home platform allows kids to access lessons, create and share projects on the platform and cheer each other on. Video making will encourage curiosity, inquisitiveness and creativity, leading to more effective and efficient way of communication. Our school is aiming to include Video making and its use, not only for students but also for the teachers as an aid in teaching." said Radhika Tandon, founding director of St. Kabir Indian International School, Vadodara.
St. Kabir Indian International School holds a significant position among the top 10 CBSE schools in Vadodara. The school's philosophy facilitates children to think independently and work collaboratively. It believes in 4 Qs – intellectual, physical, emotional and spiritual quotients which are more important today than ever before, for holistic development and keeping up with the ever-changing world.
xQ has built a strong academic team led by an ex-headmistress along with award-winning filmmakers to fine-tune their video-creation curriculum. The team is building a library of over 1000 video-based curriculum projects where children can integrate video-making techniques like transitions, green screen shooting, and stop motion animation into curricular projects for subjects like maths, science, social sciences, and English.
About xQ:
xQ is an ed-tech start-up that focuses on teaching students the art and science of making videos. Built by IIM alumni in collaboration with professional filmmakers, educators, and advertising professionals, xQ believes that video is the primary language of learning and communication, in the 21st century. It is therefore critical that kids are empowered with this essential life skill from an early age. xQ is on a mission to make video-creation skills accessible to at least one million students by 2025.
For more information:
Mayuri Ingle: mayuri@learnwithxq.com +91 7045680134 (learnwithxq.com)
Mahima: mahima@onpurposeconsulting.in +91 9771895963