Crime
Wife ties husband to pole, places garland of slippers around his neck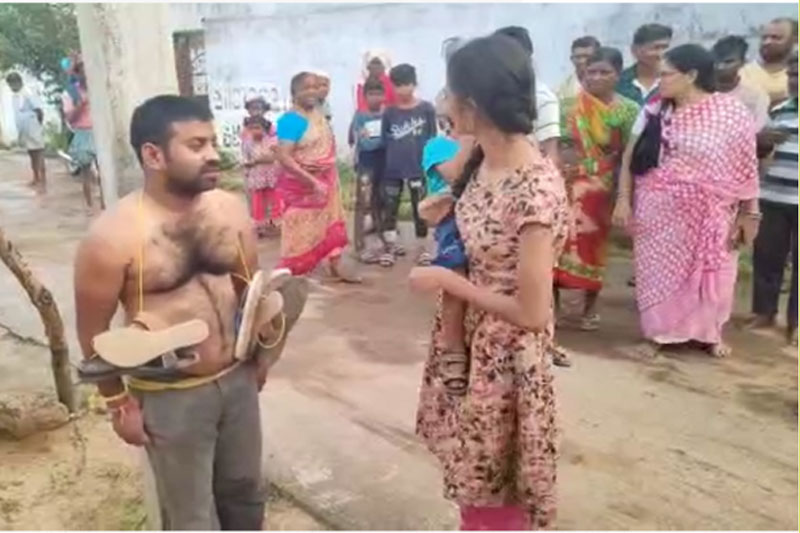 Peddapalli: In a bizarre incident occurred in Swarnapalli, Manthani mandal of Peddapalli district, a wife tied her husband to an electric pole, placed a garland of slippers around his neck and beat him black and blue. She carried her 3-year-old son in her arm and introduced his father to the child.
As reported by the News Glory, Akhila the second daughter of Kumbam Ramaswamy and Padma from Manthani mandal Swarnapalli of Peddapalli district was married to Srikanth Reddy of Hanamkonda.
Her parents gave 20 lakhs as dowry by selling their land. Akhila became pregnant after five months of marriage. Srikanth abandoned his wife since she gave birth to a son. The son now turned three years old. In all these days Srikanth did not come to see his wife or his son but was harassing his wife on the phone.
Akhila's family members came to know that Srikanth, who was having an extramarital relationship with other women, was going to marry for the second time. When Akhila narrated her sad tale to the local people, they dragged Srikanth to Swarnapalli. They tied him to an electric pole and handed him over to Akhila. Akhila vented her anger by beating him and putting garland made of slippers around his neck in front of the crowd.
While the Manthani police reached the spot after learning about the incident and began investigating, Akhila has sought justice for her.