Pan India
BJP Chief criticises Mamata & Kejriwal applauding Tripura's development
In case of Kejriwal, he has been raising allegations against BJP but not replying to the queries of the investigating agency, which sought reply, Nadda said.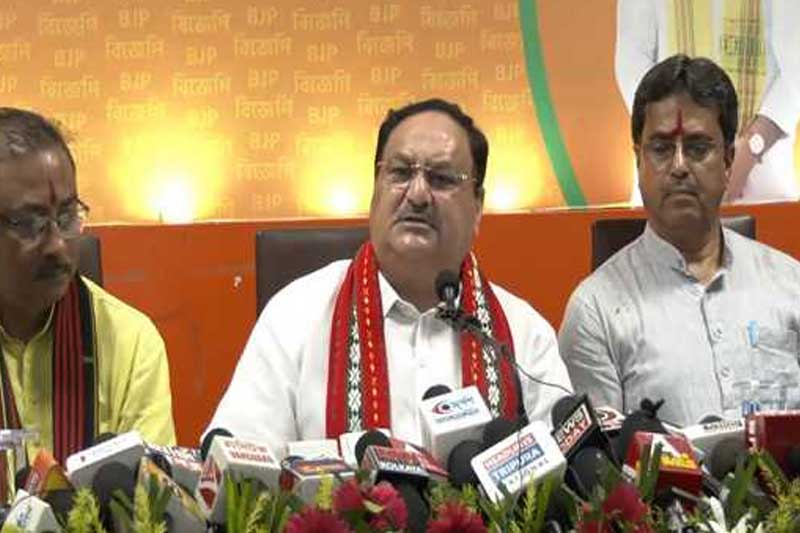 Agartala: While accusing Trinamool Congress of assaulting democracy in West Bengal and Arvind Kejriwal of shielding corrupt people in Delhi, BJP National president J P Nadda on Monday claimed Tripura under his party appeared to be one of the best-governed states in the country.
Addressing a press conference at BJP state office here Nadda said, in West Bengal crime against women, rape and political violence have taken the fan's seat under a lady Chief minister and added, "The law and order of West Bengal are worst in the country and the incidences of political violence after the last assembly election in Bengal is known to all. BJP wants to eradicate the culture violence in Bengal with the support of the people."
In case of Kejriwal, he has been raising allegations against BJP but not replying to the queries of the investigating agency, which sought reply, Nadda said, "instead of complying to laws and resorting shelter to legal procedure, we don't know why Kejriwal is raising allegations to diverting the attention."
"As per the statement of former Chief Minister of Tripura Biplab Kumar Deb and present Chief Minister Dr Manik Saha, all the poll promises made in the BJP's vision documents before 2018 assembly elections were fulfilled and political violence in Tripura reduced to zero under BJP
rule," he claimed.
He claimed the growth of Tripura in the last four and half years under BJP was tremendous in
terms of infrastructure, investment in the industrial sector, boost in tourism and organic farming, improvement of health services, roads, and connectivity, and creation of employment opportunities. Tripura has emerged as the model of development – speed, scale, and skill envisaged by the
Prime Minister.
The law and order have improved and criminal activities have been reduced substantially during BJP's rule. The 23 years old deadlock of settling displaced Brus of Mizoram in Tripura was done peacefully and amicably by BJP government. All the misguided youths who had been in insurgency today got settled livelihood, he underlined.
"Tripura has become the gateway for South East Asian countries due to connectivity improvement, Maitri setu connecting Chittagong Seaport with South Tripura, establishing Agartala-Akhaura railway connectivity is almost completed and air connectivity between Agartala and Chittagong is offing soon," Nadda pointed out.
Tripura had dark days when murder, mayhem, kidnapping, and armed rebellion were the order of the day. Later, corruption and nepotism became a regular phenomenon of the governance under leftist rule for 25 years. But after BJP led government came to power in Tripura, there is a remarkable change in the governance and a new phase of development has begun, Nadda stated.
In terms of women empowerment Tripura achieves a milestone by increasing the volume of SHGs to seventh times with the direct patronage of the government where their products got branding and accreditation in national market, imparted training to the artisans, and implemented buy back policy for the SHG produces, he claimed.
The per capita income has increased by 30 percent in Tripura and the volume of the state budget has increased manifolds. The state has been exporting pineapple, jackfruit, canted lemon and many other horticultural produces to the international market which indicates the status of Tripura's economy under BJP's double-engine government, Nadda said.
"When I was Union Health Minister under Prime Minister Narendra Tripura it was the state of referral land to the other states and now all advanced and critical surgeries and treatments because I sanctioned super speciality infrastructure for Tripura and now as many as seven super speciality services are provided here," he added.