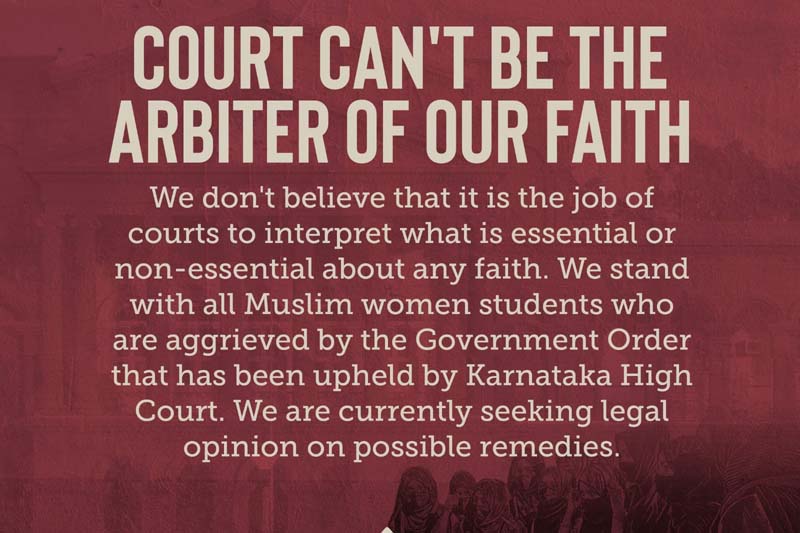 Hyderabad: Karnataka High Court dismissed all petitions against hijab ban and upheld the government imposed ban on hijab in educational institutions in Karnataka. The Court ruled that wearing hijab is not part of essential practices and said students cannot object to reasonable restrictions in uniforms.
While right wing elements welcomed the Court verdict, Muslims show their disappointment over the ruling.
Expressing his disagreement over the verdict, Hyderabad MP and MIM supremo Asaduddin Owaisi tweeted: "1. I disagree with Karnataka High Court's judgement on #hijab. It's my right to disagree with the judgement & I hope that petitioners appeal before SC 2. I also hope that not only
but also organisations of other religious groups appeal this judgement…
JKNC Vice President Omar Abdullah termed it denial of right to woman and stated: "Very disappointed by the verdict of the Karnataka High Court. Regardless of what you may think about the hijab it's not about an item of clothing, it's about the right of a woman to choose how she wants to dress. That the court didn't uphold this basic right is a travesty."
National president SIO of India observed "We don't believe that it is the job of courts to interpret what is essential or non-essential about any faith. We stand with all Muslim women students who are aggrieved by the GO upheld by Karnataka High Court. We are currently seeking legal opinion on possible remedies."
Journalist Nidhi Razdan tweeted: "Did the court have anything to say on the way Muslim women were bullied and heckled into taking off their hijabs? The way little girls were stopped from going to school until they took off their head scarves at the gate?"
A twitter user claimed: "Karnataka High Court's Hijab ban is racist, Islamophobic, misogynistic, hateful, heinous, harmful and draconian. This gendered Islamophobia by the court would further mainstream anti-Muslim hate, bigotry and misogyny against Muslim women in India."
Another user tweeted: "Disappointed by Karnataka HC decision. Hijab is and always has been essential part of Islam for Muslims as per their understanding of their texts. That's not going to change. It's not up to the courts to decide, especially in a democratic country."
One Afreen Fatima writes: "We are not going to be silent bystanders and overlook this grave injustice. Indeed Allah is with those who persevere! Muslimah Allahabad's statement on the Karnataka High Court verdict banning hijab."
Declaring the decision unconstitutional, one Syed Sarfaraz tweeted: "Court's are not only to Announce Judgement, they are established to provide justice. So disappointed by Unconstitutional decision of High court of Karnataka. we will continue our Struggle against Injustice."
Calling the ruling against teachings of Holy Quran, Sattar Farooqui stated: "How can Karnataka High Court rule AGAINST teachings of Holy Quran…??!! Now, Democratic Struggle is a MUST to achieve Fundamental rights…"
Karnataka High Court's dismissal of Muslim girl students petition holding that #Hijab is not an essential part of #Islam is deeply disappointing,The judgment is against the spirit of constitutional values of fundamental rights & pluralism.