South India
Kerala BJP slams Left over Benazir Bhutto's picture in AIDWA poster
The conflict had broken out over the control of fertile land along the Ganga river in Chandpur village that falls under Barari police station in Bihar's Bhagalpur district.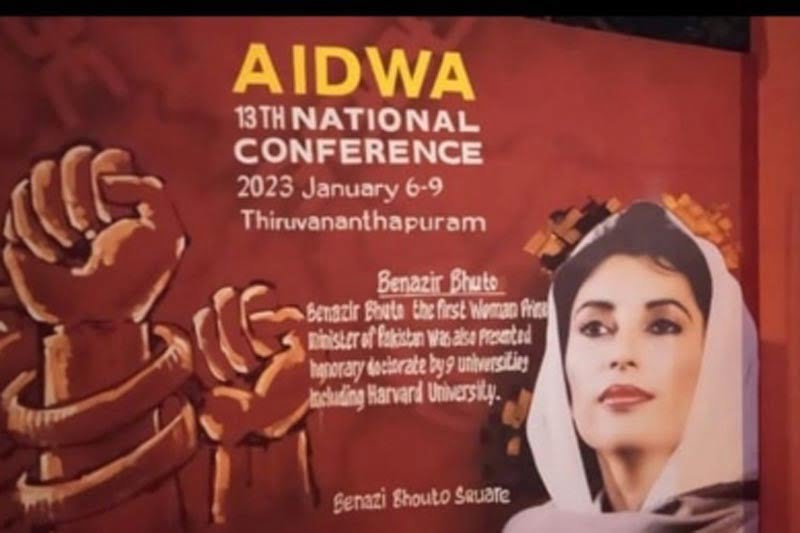 Thiruvananthapuram: The Kerala unit of the BJP on Friday condemned the women's wing of the CPI(M) — All India Democratic Women's Association (AIDWA) — for using the picture of former Pakistan Prime Minister Benazir Bhutto in its poster.
The poster announces the AIDWA conference to be held here from Friday to Monday. It also mentions that Bhutto was the first women prime minister of Pakistan, who was honoured with nine honorary doctorates, including one from Cambridge University.
State BJP president K. Surendran said, "Simple logic- a stab on India and votes from terrorists".
State BJP spokesperson Sandeep Vachaspathi said this was an anti-national act by the CPI(M).
"The poster of Bhutto has been prominently displayed in the heart of the state capital city. I am not asking them who Bhutto is to them. They have been doing such acts for a long time. They are adoring a person who has always been trying to destroy our country and such people (CPI(M)) are the enemies of our country and we should realise that," said Vachaspathi, who had contested as a BJP candidate in Alappuzha district in the 2021 Assembly polls.
"We needn't expect more than this from a new generation of those who tried to subvert India's struggle for independence.
"It is not Pakistan or China who are our enemies but our 'comrades' and all of us have to be wary of them and should always be on high alert. This happens because there is a following here who will gulp down whatever their leaders speak without any issues," added Vachaspathi.