Andhra Pradesh
I am fighting for truth, says daughter of Vivekananda Reddy
On the fourth death anniversary of Vivekananda Reddy, she paid tributes to him at his Samadhi in Pulivendula town of YSR Kadapa district.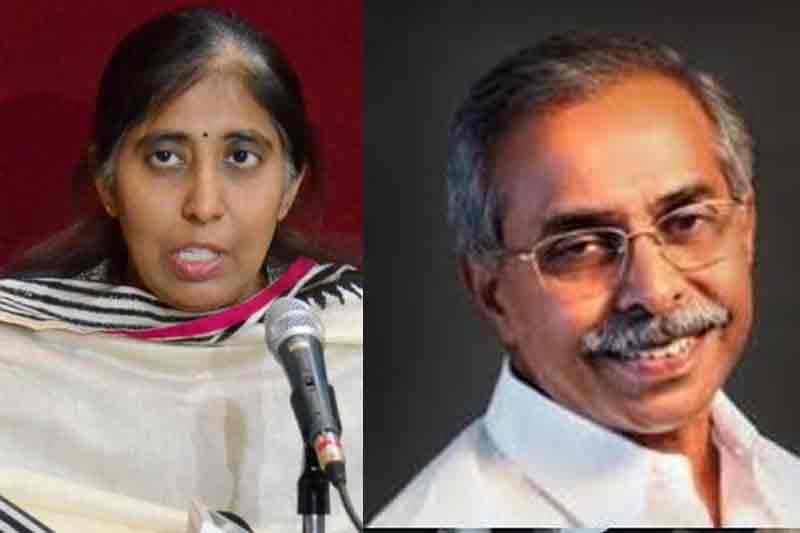 Amaravati: Former Andhra Pradesh minister Y. S. Vivekananda Reddy's daughter Suneetha Reddy on Wednesday said that she wants people to know who killed her father.
On the fourth death anniversary of Vivekananda Reddy, she paid tributes to him at his Samadhi in Pulivendula town of YSR Kadapa district.
She said she was fighting for the truth to come out so that it would help other families.
"I am fighting to make sure that this should not happen to anyone. Truth should come out as this will help other families," she said and thanked all those supporting her in the cause of justice.
Without naming anybody, she said in the past, some people spoke casually about her father's murder.
"They said such murders in Kadapa and Kurnool are normal," said Suneetha Reddy, cousin of Chief Minister Y. S. Jagan Mohan Reddy.
Stating that the guilty should be punished, she said this will improve the system. "We punish our children when they do something wrong. If adults do wrong, can they be allowed to let go," she asked.
She said from police investigation to the Central Bureau of Investigation (CBI), she always maintained let them do their job. "There is a system. No one should try to influence it or put pressure on it."
Replying to a query, Suneetha Reddy said she was aware of some persons making allegations against her family members.
"I will not say anything as the investigations are going on. If I have any information, I will give it to the investigating agency. I never suppressed any information," she said
Suneetha Reddy's cousin and Kadapa MP Y. S. Avinash Reddy on Tuesday appeared before CBI for questioning a fourth time in the case.
The Telangana High Court had on Monday reserved orders on Avinash Reddy's petition seeking directions to the CBI not to take coercive steps against him.
Avinash Reddy contended that the CBI was trying to project him as the main conspirator.
His counsel T. Niranjan Reddy argued that the CBI was not investigating the role of N. Rajasekhar Reddy, son-in-law of Vivekananda Reddy and his second wife Shamim. He told the court that Vivekananda Reddy had married Shamim in 2010 and they had a son. As a result of his second marriage, his family had differences, including over financial transactions. Vivekananda Reddy was killed due to property disputes with his family, senior counsel argued and asked the CBI to investigate this angle.
Vivekananda Reddy, younger brother of former chief minister Y. S. Rajasekhara Reddy, was found murdered mysteriously at his residence at Pulivendula in Kadapa district on March 15, 2019, a month ahead of 2019 general elections.
The 68-year-old former state minister and former MP was alone at his house when unidentified persons barged in and killed him. He was killed hours before he was to launch YSR Congress Party's election campaign in Kadapa.
The CBI took over the investigation into the case in 2020 on the direction of Andhra Pradesh High Court while hearing a petition of Vivekananda Reddy's daughter Suneetha Reddy, who raised suspicion about some relatives.
In November last year, the Supreme Court transferred to a CBI court in Hyderabad the trial and probe into the larger conspiracy behind the murder. The apex court observed that doubts raised by Suneetha Reddy about getting a fair trial and investigation in Andhra Pradesh were reasonable.