Hyderabad
16-century Gulzar Houz torn down?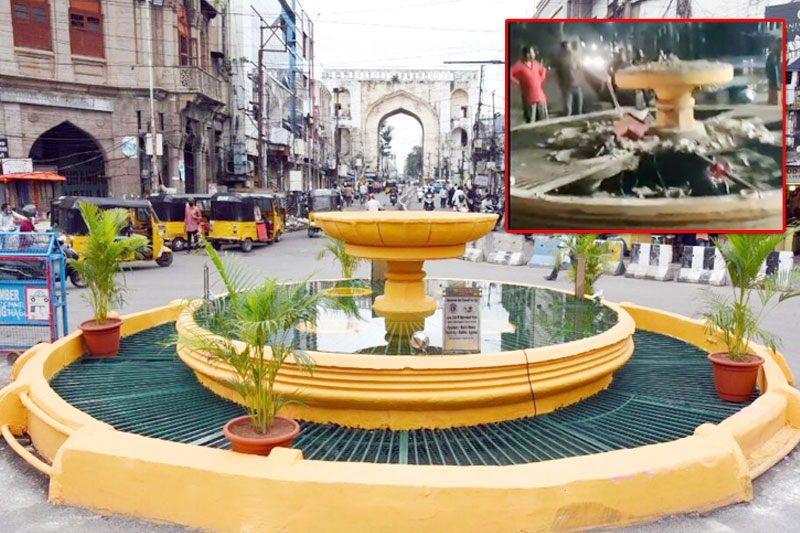 Hyderabad: The restoration work of the 16th century Gulzar Houz in the old city of Hyderabad has begun. The Deccan Heritage Restoration and Conservation Company has been entrusted with the task.
Mir Khan, founder of Deccan Terrain Heritage, said that the work is being done to get the Gulzar Houz' appeal back. Efforts are being made to bring it back to its original design. There will be no change in its size. He said that the ancient design of Gulzar Houz was different.
Mir Khan told that the restoration work of Maula Ali Kaman was also done by him. He informed that initially the fountain was a flatbed octagon shape with a water body in the centre and there was no grill around it. Subsequently as the public view around the fountain increased, the grill was made. He pointed out that during the reign of Asaf Jah Nawab Mir Osman Ali Khan Bahadur, a chain was placed around the Gulzar Houz so that the onlookers could not go beyond it. During that period, the Houz was filled with the fresh water.
With the beginning of the restoration work on Monday night, and workers starting drilling out and removing concrete from the structure using a machine, rumours began circulating on social media and local media claiming that the Gulzar Houz is being demolished. A large number of people gathered to know the truth.
The police were later called in to disperse the crowd. Using tin sheets, Gulzar Houz has been was covered from all sides. The works are expected to be complete within two months.
The Gulzar Houz was built some years after the Charminar, by the prime minister of the 5th Qutub Shahi ruler, Muhammad Quli Qutub Shah, Mir Momin Istrabadi. The Gulzar Houz was originally called 'Char Su Ka Houz' (fountain of the four sides) and served as a source of drinking water for the local people of the city. In 1724 several changes were made in this Houz.
The restoration work is being done to return the structure to its octagonal shape, with a five-feet central fountain with three saucers, sitting on a four-feet pedestal. According to sources, the outer structure will be surrounded by a four-feet parapet wall. There will be lamp posts and grills to complete the structure. Each of the eight nooks will have nozzles fitted to them.