Hyderabad
Groom's brother-in-law dies during Haldi ceremony at old city of Hyderabad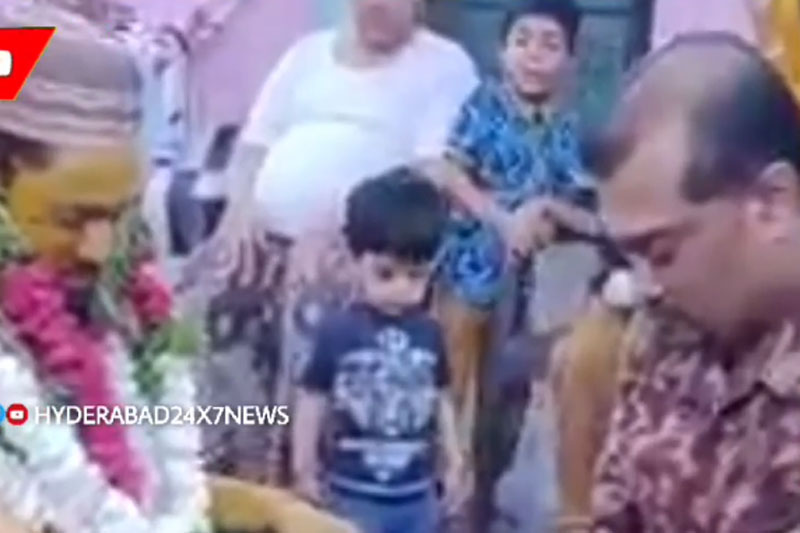 Hyderabad: In a very tragic incident that took place at Kala Pathar of Hyderabad, a man died of heart attack during the haldi ceremony held at groom's residence before his marriage ceremony. According to sources, a video of the haldi ceremony has gone viral on social media, in which the deceased can be seen applying turmeric to his brother-in-law. Meanwhile, he suddenly collapses. He later died during treatment at the hospital, turning the celebration into mourning.
https://www.facebook.com/watch/?v=1243765526541991
https://www.facebook.com/hyderabads24x7news/videos/1243765526541991
Since morning, the video of this incident has been going rounds on various WhatsApp groups and Facebook pages. Two days before the marriage was scheduled, haldi ceremony was being held on Monday night, February 20. Deceased identified as Rabbani and other close relatives participated in the ceremony.
When it was Rabbani's turn to apply turmeric to the groom he collapsed while doing so. He was rushed to the hospital where he died on Tuesday evening. Rabbani worked in a jewelery shop at Gulzar House and has two sons and two daughters.
The celebration suddenly turned into mourning and the marriage ceremony was also postponed. Meanwhile, the family members of the deceased have requested not to make the video of this incident viral.