Karnataka
Watch: Karnataka CM couldn't bear criticism; snatches mic from a seer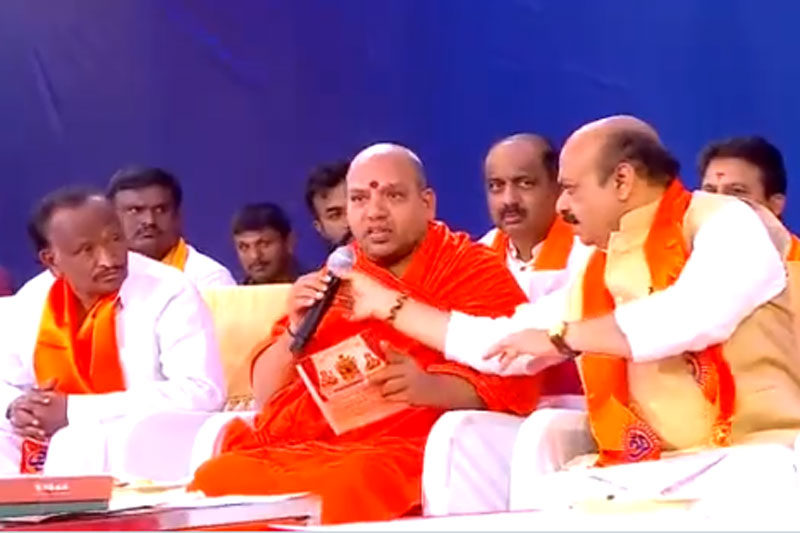 Karnataka Chief Minister Basavaraj Bommai snatched the microphone from Eeshwaranandapuri Swami when the latter raked up Bengaluru's 'severe civic issues'. The seer was sharing the stage with Bommai. The video of CM snatching the mic from the seer and responding to his criticism has been widely shared online.
Eeshwaranandapuri Swami and Bommai were attending a religious event in the city's Garudacharpalya area. In the video Swami is seen saying, "Bengaluru has been facing severe civic issues when it rains."
He added, ""I do not know why authorities don't get into action and solve them. Don't they understand what the problem is when it rains? Many chief ministers said they will find a permanent solution…"
At this point, the chief minister snatched the microphone and said that his officers were fixing all existing issues… working hard to erase civic problems. He claimed that he was not like other CMs or leaders.
The civic menace in Bengaluru has become an order of the day thanks to rain-, potholes- and infrastructure-related accidents endangering the lives of residents. It must be recalled that a Metro pillar collapsed on the city's busy Outer Ring Road two weeks ago and killed a mother and her child.