Maharashtra
Ahead of PM's Mumbai visit, CM Shinde packs bags for Swiss biz sojourn
For Shinde, this is his first trip abroad since coming to power on June 30 last year after unceremoniously toppling the Maha Vikas Aghadi (MVA)'s ex-CM Uddhav Thackeray.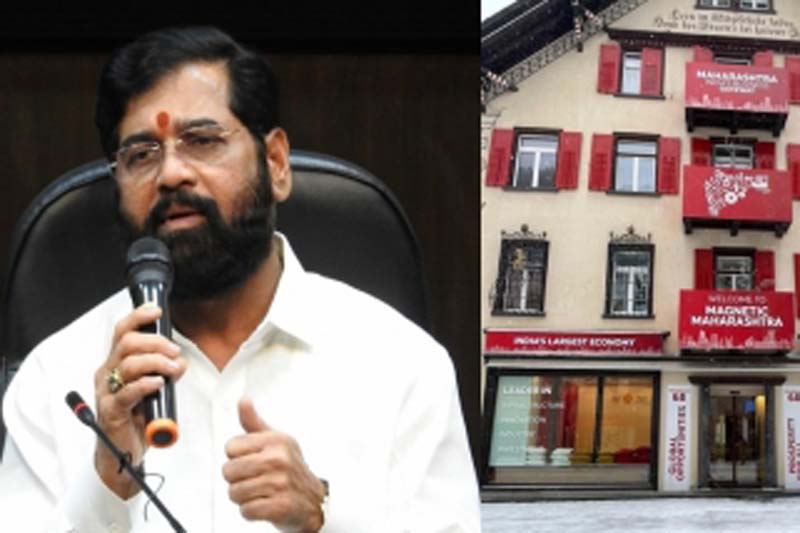 Mumbai: Ahead of Prime Minister Narendra Modi's Mumbai visit, Chief Minister Eknath Shinde is busy packing his bags for a quick business trip to Davos, Switzerland, where the World Economic Forum (WEF) is scheduled between January 16 and 20.
Deputy CM Devendra Fadnavis, who was scheduled to accompany Shinde's 20-strong delegation, backed off and will make preparations for the PM's programmes in the country's commercial capital on January 19, and the foreign-returned Shinde shall join them.
For Shinde, this is his first trip abroad since coming to power on June 30 last year after unceremoniously toppling the Maha Vikas Aghadi (MVA)'s ex-CM Uddhav Thackeray.
The Davos biz trip is crucial for Shinde-Fadnavis to make a lasting impression back home where the Balasahebanchi Shiv Sena-Bharatiya Janata Party (BSS-BJP) alliance is under machine-gunfire as several mega-projects have hopped off Gujarat and certain other states.
Even before boarding the flight, team Shinde has announced that the Maharashtra government "will sign MoUs worth around Rs 1.40 lakh-crore" with 20 global conglomerates at the picturesque Alpine ski resort of Davos – hosting the 2023 conference themed 'Cooperation In A Fragmented World'.
As per the CMO, Shinde and his entourage will fly to Zurich on Jan. 15 and on Jan. 16 (Monday), go to Davos – some three hours away – and inaugurate the Maharashtra Pavilion, which is right opposite the India Pavilion.
The pavilion will showcase Maharashtra's Coastal Road Project, Metro Projects in various cities, the HinduhridaySamrat Balasaheb Thackeray Mumbai-Nagpur Super Expressway, the longest tunnel for the Mumbai-Pune Expressway 'missing link', changing over to electric vehicles in public transport and other eco-friendly measures combing sustainable development adopted by the state.
There, some MoUs will be signed and then Shinde will meet top officials of the WEF and attend the main welcome function at the Congress Centre that evening.
On Jan 17, the CM will meet and say cheese with the Prime Ministers of Luxembourg and Jordan, Ministers of Singapore and Saudi Arabia, bankers and the Swiss-India Chamber of Commerce, and a few more MoUs shall be inked.
That afternoon, he will address a gathering in Congress Centre on the challenges posed by "changing climatic conditions to the development of cities and environment-friendly sustainable development".
After the hectic businesslike day, a relaxed Shinde would host a Maharashtrian banquet for around 150 Indian and international dignitaries from politics, industry and others attending the WEF and sell the concept of 'Magnetic Maharashtra' aimed to attract big investments.
Unconvinced, the Opposition MVA leaders have raised eyebrows over Shinde's brief Davos jaunt with sharp comments.
Nationalist Congress Party's Chief Spokesperson Mahesh Tapase urged the CM should ensure that "the proposed investments finally land in Maharashtra and not get diverted to Gujarat or some other state" and ensure good employment opportunities for the youth here.
Congress General Secretary Sachin Sawant said that owing to the PM's visit to Mumbai, the Dy CM (Fadnavis) cancelled his Davos trip and CM Shinde will cut short his tour, thus missing out a golden opportunity for getting good investment projects for the state.
Shiv Sena (UBT) Chief Spokesperson and MP Sanjay Raut said that the Shinde-Fadnavis government is "illegal and unconstitutional" and hence not serious about investments or creating jobs in the state.
"This is the first physical WEF after the two years of pandemic. We have prepared a master plan to convey an impressive image of Maharashtra at the conference. The CM and Deputy CM have personally reviewed everything and guided the officials on all aspects," said an official here.
The annual WEF attracts around 2,500 top leaders in politics, business and economics and attracts the eyes and ears of the whole world, though Shinde may warily keep glancing over his shoulder to keep an eye back home.
Minister Uday Samant, top officials like Chief Secretary Manukumar Srivastava, Bhushan Gagrani, Harshdeep Kamble, Vipin Sharma and others will comprise the state delegation led by Shinde, and will return home late on Jan 18 – in time for the PM's visit.