Asia
Death toll in Dhaka blast rises to 18
The Dog Squad team of Rapid Action Battalion (RAB) is searching to rescue if any of the missing are stuck inside the damaged building.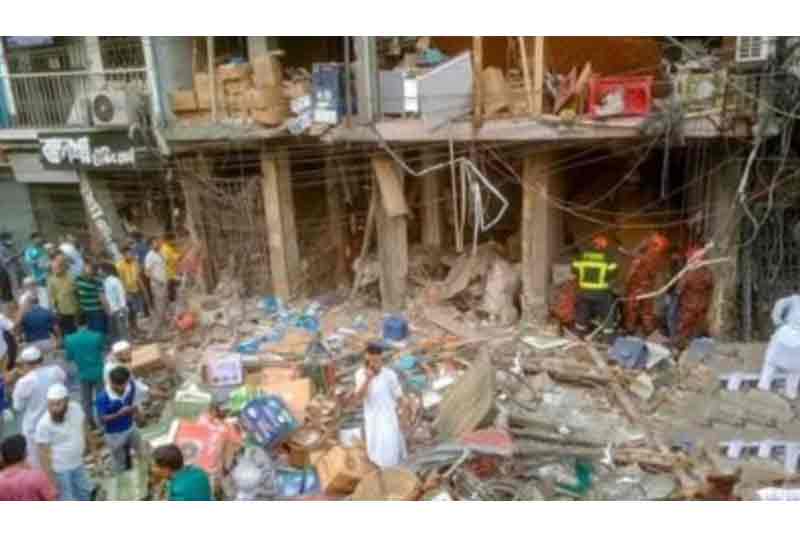 Dhaka: The death toll in the explosion at a seven-storey building in Dhaka's Phulbaria area of Gulistan has risen to 18. Three are still missing.
The Dog Squad team of Rapid Action Battalion (RAB) is searching to rescue if any of the missing are stuck inside the damaged building.
Home Minister Asaduzzaman Khan Kamal told IANS that, "We are investigating if there was proper precaution to protect from any blast. After the investigation, we will be able to know the cause of the blast.
Brig Gen Tajul Hoque, Director of Dhaka Medical College Hospital (DMCH), said, "We have 11 patients, we're trying our best to save them."
Dr Samantalal Sen, chief of Sheikh Hasina Burn Institute, said that, four of them are on life support, all are critical, burnt patients need time to get cured. Three are in ICU, others are at death risk, as they are more than 85 per cent burnt.
11 critically injured are getting treatment in Sheikh Hasina Burn Institute, 20 are in DMCH, 170 were discharged from hospital after treatment, said a doctor on Wednesday.
Khandakar Golam Faruq of Dhaka Metropolitan Police told IANS that, military bomb disposal team, CTTC experts and other experts did not get any explosive here. These old buildings' basement was like a gas chamber, the blast occurred due to the Methane Gas of such an old building.
Some of the officials claimed that the Methane forms explosive mixtures with air and the loudest explosions occur when one volume of methane is mixed with 10 volumes of air (or 2 volumes of oxygen) (Windholz et al., 1976). Air containing less than 5.5 per cent Methane no longer explodes.
The deceased were identified as Md Sumon, Md Ishak Mridha, Md Munsur Hossain, Md Ismail, Md Al Amin, Md Rahat Hossain, Mominul Islam, Nodi Begum, Md Maeen Uddin, Nazmul Hossain, Obaidul Hasan Babul, Abu Jafar Siddiq, Akuti Begum, Md Idris Mir, Nurul Islam Bhuyan, Md Hridoy, Md Samrat and Mohammad Siam.
More than 50 people, who were injured in the explosion, are undergoing treatment at Dhaka Medical College Hospital, Bachchu Miah, In-charge of DMCH police camp, confirmed on Wednesday.
The explosion occurred on the ground floor of the seven-storey building at Siddique Bazar of Phulbaria of the Capital at about 4:50 p.m. on Tuesday. Eleven firefighting units were rushed to douse the blaze.
Resumption of rescue operations at the Gulistan building, where the deadly explosion took place, was progressing slowly on Wednesday as there are fears about the building's stability.
Police said the beams and pillars at the basement of the building are damaged, and operating heavy machinery in the area, such as excavators, could create vibrations that might cause the building to collapse.