Social Media
#BharatJodoYatra trending on twitter
With an eye on the 2024 general elections, the Congress party starts its Bharat Jodo Yatra on Wednesday, a 3,570 km journey from Kanyakumari to Kashmir lasting 150 days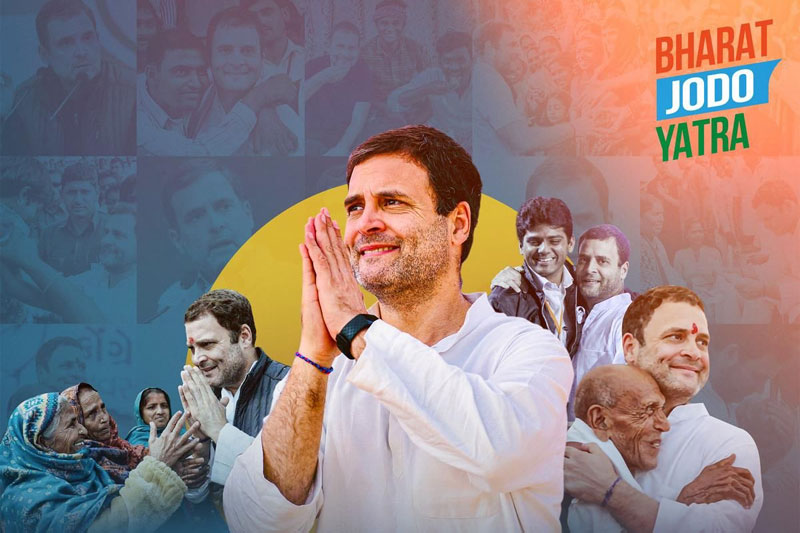 'Bharat Jodo Yatra', Congress' massive mass contact programme, has been flagged off by Rahul Gandhi this afternoon. With an eye on the 2024 general elections, the Congress party starts its Bharat Jodo Yatra on Wednesday, a 3,570 km journey from Kanyakumari to Kashmir lasting 150 days.
Meanwhile #BharatJodoYatra has become a top trend on twitter.
The Official Twitter Account of The Indian National Congress shares Congress President Smt. Sonia Gandhi's written address on the launch of #BharatJodoYatra
Chief Minister of Tamil Nadu, M K Stalin, extends good wishes for the Yatra by stating, "At a time when communal polarisation and vicious hate campaigns are engulfing the minds of people, India's grand old party has undertaken an arduous task to unshackle India from oppression. I wish the #BharatJodoYatra to succeed in its goal of reinventing our glorious republic.
KL Chishi, Ex Chief Minister of Nagaland too extends his best wishes writing, "My best wishes to @RahulGandhi ji and all those taking part in #BharatJodoYatra India awaits this historic movement.
Member of Parliament Jairam Ramesh tweets, "#BharatJodoYatra was launched today and the theme song was released in Tamil. It's a powerful song that will resonate even with those who don't know the language. Next 3 days the yatra will be in TN. This is the beginning of a long journey. The first steps were taken today."
Neeraj Kundan, National President NSUI writes, "In this time of inequality on basis of economical , social , religious and racial discrimination, @nsui is up with Sh. @RahulGandhi Ji in his mission of #BharatJodoYatra. The flag of NSUI are waving high & it's workers are roaring loud !!!
Senior Special Correspondent, India Today TV, Supriya Bhardwaj shares the video stating, "With Tiranga in his hand, Mr @Rahul Gandhi reaches the public meeting venue at #Kanyakumari #BharatJodoYatra
Shashi Tharoor, INC. MP for Thiruvananthapuram, tweets, "On the beach at Kanyakumari: the crowds assembled at a public meeting to mark the inauguration of the #BharatJodoYatra. From the tip of India, the message of unity will march northwards.
National President – Indian Youth Congress Srinivas BV shares the video stating, "A grand Welcome for the grand struggle. Shri @RahulGandhi Ji to kick start the historic #BharatJodoYatra to defeat the forces that tend to divide India.
Ashok Swain noted, "Rahul Gandhi starts his #BharatJodoYatra from Kanyakumari. No other leader in the world has ever walked 3700km for any political mobilization. Handing over of tricolor by Tamil Nadu CM MK Stalin to Gandhi is a strong message to India's fascist forces.
Cine star Pooja Bhatt tweets, "Dignified start to the #BharatJodoYatra through the prayer gathering in memory of Shri Rajiv Gandhi in Sriperumbudur. Pain is pain & loss is loss however one perceives it. To revisit pain & meet it with grace is a rare attribute. Affirming to witness Rahul Gandhi do that.
Former national spokesperson for the Indian National Congress (INC) Sanjay Jha congratulates Rahul Gandhi by writing, "Rahul Gandhi and the Congress must be congratulated for undertaking the 3570 km long #BharatJodoYatra over 150 days. A national renewal is needed that celebrates our freedom, plurality and togetherness. This great country deserves better. Our founders dreams must be met.