Hyderabad
Successful Health and Cancer Screening Camp Draws Over 200 Participants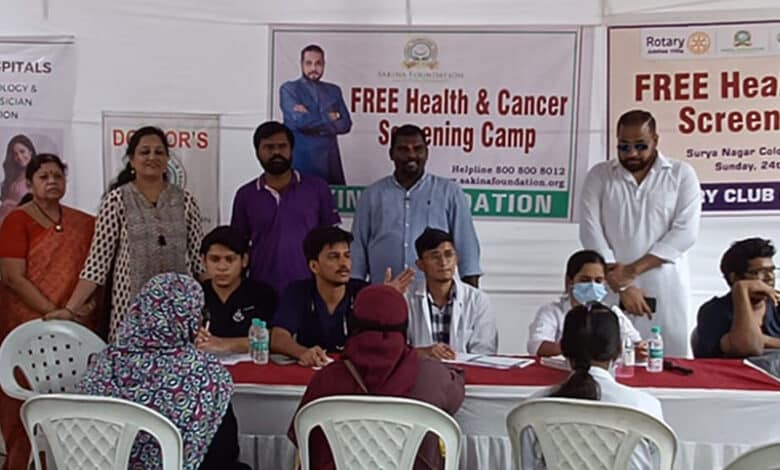 Hyderabad: The Rotary Club of Jubilee Hills and Sakina Foundation, in association with MNJ and Oak Hospitals, organized a highly successful Free Mega Health and Cancer Screening Camp on the 24th of September, 2023, at the Suryanagar Colony Playground in Shaikpet.
The event aimed to provide comprehensive healthcare services, including cancer screening, mammography, cervical screenings, ECG, orthopedic consultations, gynecological examinations, pediatric services, blood tests, and medical consultations, with a strong focus on early detection and improved survival rates.
The camp witnessed an impressive turnout, with more than 200 individuals from the local community and marginalized groups enthusiastically participating in the event. This remarkable response highlighted the importance of accessible healthcare services, especially in underserved areas.
Distinguished guests and community leaders graced the occasion, including Ramakrishna, SHO Film Nagar; Venkateshwarlu, SHO Golconda; Rtn A.G. Suresh; Rtn DGS Ramprasad; and Asif Hussain Sohail, Chairman of the Sakina Foundation.
The event also saw the active participation of Rtn. Sridevi, Rtn. Rizwan, Rtn. Bala Kotayya, Rtn. Hanumant Reddy, and numerous dedicated volunteers from the Sakina Foundation.
Asif Hussain Sohail, Chairman of the Sakina Foundation, expressed heartfelt gratitude to the healthcare professionals and volunteers who played a pivotal role in making the 93rd Free Health Camp a resounding success.
Their commitment to providing vital healthcare services to the community underscored the spirit of compassion and generosity that drives such initiatives.
The Free Mega Health and Cancer Screening Camp not only offered crucial medical services but also emphasized the importance of early detection and regular check-ups, contributing to the overall well-being of the participants.
The event's success serves as a testament to the collective effort and dedication of the organizers, volunteers, and healthcare professionals in making healthcare accessible to all, regardless of their socio-economic backgrounds.
Such community-driven initiatives continue to play a pivotal role in promoting health awareness and ensuring that healthcare services reach those who need them the most, fostering a healthier and more resilient society.
Follow Us