Hyderabad
Telangana Minister KTR Fires Back: Labels Razakar Movie Teaser a Political Ploy for Communal Discord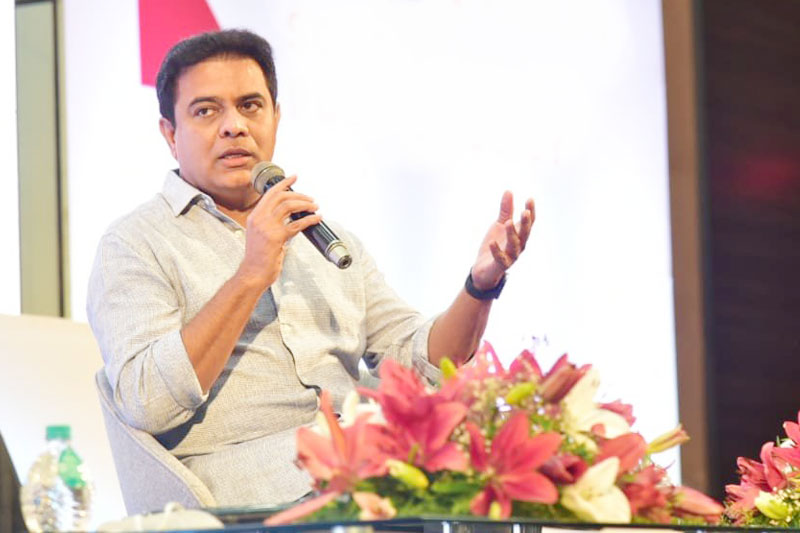 Hyderabad: The teaser release of the Razakar movie, a period drama depicting events in Nizam's Hyderabad before its accession to the Indian Union in 1948, has sparked controversy on social media. The film claims to be based on true stories and portrays alleged atrocities committed by Razakars against Hindus.
Telangana Minister K T Rama Rao (KTR) swiftly responded, stating, "Some intellectually bankrupt jokers of the BJP are doing their best to instigate communal violence and polarisation for their political propaganda in Telangana We will take up the matter with censor board and also the Telangana police to ensure that the law & order situation of Telangana is not affected" he shared on X, formerly Twitter.
This response was prompted by a social media user who urged the minister to halt the release of a "misleading propaganda movie" to preserve peace in Hyderabad and Telangana. The user argued that even the teaser was sowing discord between communities.
The Razakars, denoting volunteers, were a private militia under Qasim Razvi, president of Majlis-e-Ittehadul Muslimeen (established in 1927), who tried to maintain Hyderabad's independence amidst the turmoil following India's Independence.
The teaser for the film, funded by BJP leader Gudur Narayana Reddy, premiered on Sunday evening. Suspended BJP leader and Goshamahal MLA T Raja Singh, present at the event, lauded it as an outstanding film and drew parallels to 'The Kashmir Files' and 'The Kerala Story', asserting that they shed light on facts and raised awareness. He encouraged people to spread awareness nationwide about the sacrifices that led to Hyderabad's liberation and contribute to its success.
Former state BJP chief and Karimnagar MP Bandi Sanjay Kumar shared the teaser with a post on X.
In response, Bharat Rashtra Samithi leader Dasoju Sravan stated that as a member of Parliament, it is inappropriate and unacceptable for Bandi Sanjay to welcome the Razakar Teaser, which aims to reopen a wound that healed decades ago…
Sravan went on to assert that the Razakar movie was being produced and promoted as a criminal conspiracy to disrupt social peace, foster hatred and division, and tarnish the very social fabric of Ganga Jammi Thehzeeb in Telangana and Hyderabad.