Hyderabad
Hyderabad CP holds meeting on arrangements for Milad-un-Nabi Juloos
In preparation for the October 1 Milad-un-Nabi procession, City Police Commissioner CV Anand held a video conference with sector SIs and senior officers to review security and traffic plans for a smooth event.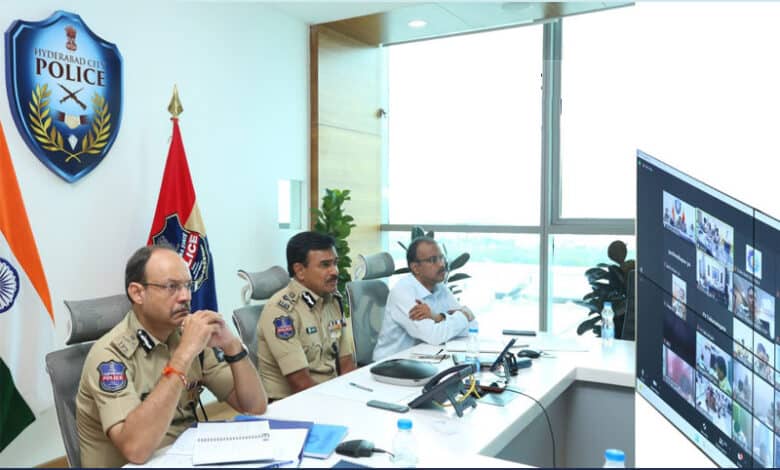 Hyderabad: In anticipation of the Milad-un-Nabi juloos scheduled to be held on October 1, CV Anand, the City Police Commissioner, conducted a video conference with sector SIs and senior-ranking officers to meticulously review security and traffic arrangements, ensuring a smooth procession.
Commencing the meeting, senior officers expressed their appreciation for the unwavering dedication exhibited by all ranks of the city police in successfully concluding the Ganesh Shoba Yatra and idol immersion in a peaceful manner.
Emphasizing the importance of prompt incident reporting to senior officers, he further instructed the deployment of a significant police force presence in mixed localities while intensifying patrolling efforts.
Recognizing the prevalence of young individuals traveling on bikes, traffic officers received directives to implement effective measures aimed at reducing road accidents and enhancing road safety.
The officers were also tasked with closely liaising with event organizers to ensure that the procession routes remain clear and adhere to predetermined paths.
Given the presence of several new SHOs and DCPs within the City Police, CP Anand instructed South Zone DCP to provide comprehensive briefings on the annual customs, the historical significance of Milad festivities, related meetings, events, and the primary organizations involved.
During the conference, all zonal DCPs provided an overview of the number of processions scheduled within their respective jurisdictions and the measures being taken.
Excluding inter-commissionerate processions that may partially enter city limits, multiple processions would take place across the 7 zones, with South, South East, and South West accommodating the most.
The main procession will commence at Gulzar House, Pathergatti, proceed through Madina cross road, Chatta Bazar, Purani Haveli, Mandi Miralam, Mandi Miralam road, Ettebar chowk, Kotla Aliza, and conclude at Moghalpura.
Additional Commissioner of Police for Law and Order, Vikram Singh Mann, and Additional Commissioner of Police for Special Branch, Viswaprasad, shared detailed insights into past incidents and discussed precautionary measures to be implemented.
Additional platoons were confirmed for deployment, with an emphasis on monitoring history sheeters, conducting social media surveillance, and addressing various related issues.
The iCCC will be operational from the morning hours with representatives from all departments to address any issues that may arise during the day.
Follow Us