South India
Inter-religious wedding: Nadeem and Kripa get married at Art Festival of their College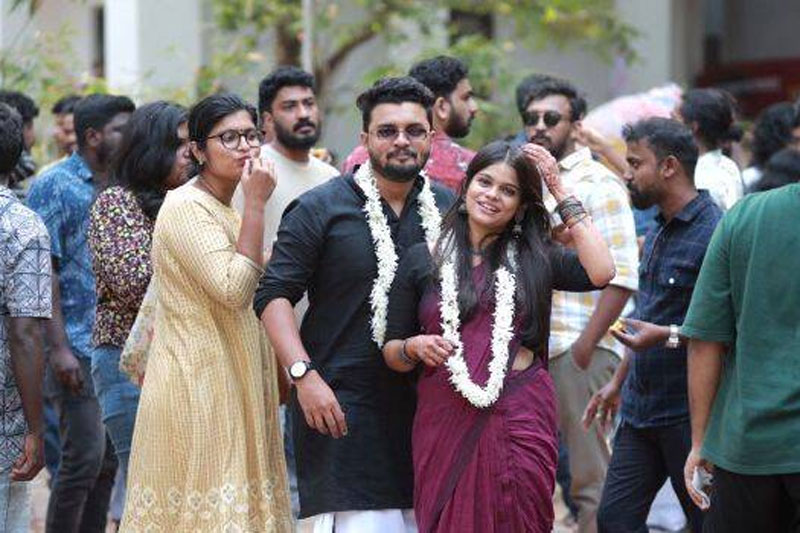 Ernakulam: Maharaja's College, where the Mahatma Gandhi University Union Arts Festival was held on Thursday, witnessed a rare wedding. Nadeem and Kripa, who returned to their college six years after completing their degree studies, chose the most favorite place of their lives for their wedding. The alumni wedding was a unique experience for Maharaja's Campus.
Two former students Nadeem and Kripa got married at the Arts Festival held at Maharaja's Degree College in Ernakulam, Kerala.  The duo never expected such a moment in their lives when they walked out of the campus, they held dear to their hearts, 6 years ago. 
The two first met during their degree studies at the Ernakulam Maharaja Campus. It didn't take long for love to blossom between the two. Both studied graduation during the academic years 2014-17. Kripa was a philosophy student at Maharaja College, while Nadeem was a student of Environmental Chemistry. However, their families were against the inter-religious love marriage.
Nadeem and Kripa tied the knot when thousands of students and art connoisseurs gathered for the art festival. They got their marriage registered. The couple say that the decision to get married at the campus where they fell in love had been in their minds for some time. Speaking to media they said that they are happy that their union is now a reality.