Sports
Praises pour in for 'Miyaan' Mohammed Siraj for his stellar bowling performance & grand victory of Team India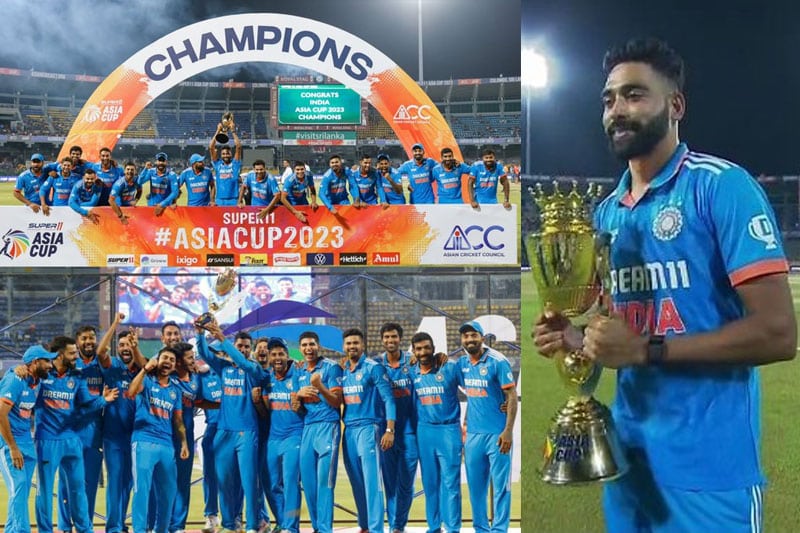 In a spectacular display of cricketing prowess, Team India clinched an emphatic victory in the Asia Cup, leaving cricket enthusiasts and legends alike in awe of their performance. The highlight of the match was the phenomenal bowling spell by Mohammed Siraj, which proved to be a formidable challenge for the Sri Lankan team.
Legendary cricketer Sachin Tendulkar took to Twitter to express his congratulations, acknowledging the difficult day for Sri Lankan cricket. He lauded Mohammed Siraj's spell, describing it as "spicy to handle."
Renowned industrialist Anand Mahindra was left marveling at the force unleashed by Mohammed Siraj, comparing him to a Marvel Avenger. He confessed to an unprecedented sense of sympathy for the opponents.
Munaf Patel, known for his candid commentary, hailed Siraj's spell as a powerful display of skill, urging him to continue delivering such performances.
Former Indian opener Virender Sehwag hailed the brevity and impact of Siraj's performance, stating, "21 overs in the match and done and dusted." He commended the team's timing, asserting that they have peaked at the perfect moment before the World Cup.
Business tycoon Gautam Adani celebrated India's continued success on the global sports stage, listing notable achievements across various disciplines. He commended Mohammed Siraj's astounding performance, emphasizing the momentum generated by such victories.
Bollywood actor Ajay Devgan couldn't contain his admiration for Mohammed Siraj's bowling prowess, declaring, "What a spell and what a win!" He expressed confidence in the team's readiness for the upcoming World Cup.
Former cricketer Harbhajan Singh paid tribute to Siraj's bowling with a "Subhanallah Mia sahb," underscoring the class exhibited in the India vs. Sri Lanka encounter.
Mohammad Kaif drew attention to Siraj's remarkable journey, highlighting his comeback from a challenging debut. He emphasized the valuable lesson of resilience and determination that Siraj's performance imparts.
IPS officer CV Anand extended warm congratulations to the Hyderabadi talent, acknowledging his exceptional performance. He urged the Indian team to carry this momentum into the forthcoming World Cup.
Yusuf Pathan celebrated the team's fantastic victory and emphasized the significance of this triumph in boosting their confidence ahead of the World Cup. He commended Mohammed Siraj for his unplayable performance.
Even the Delhi Police joined in, playfully exempting Mohammed Siraj from any speed challans for the day, a nod to his lightning-fast deliveries.
Fellow cricketer Yuzvendra Chahal showered Mohammed Siraj with praise, addressing him affectionately as "Miyaan Bhai" and commending his extraordinary bowling skills.
Hyderabad MP Asaduddin Owaisi expressed the triumph in Hyderabadi lingo, exclaiming, "Pasha pura #SriLanka ku khol diye," indicating the comprehensive dismantling of the Sri Lankan team.
With this extraordinary victory and Mohammed Siraj's stellar performance, Team India is poised to enter the World Cup with newfound confidence and determination, setting the stage for an exciting cricketing season ahead.