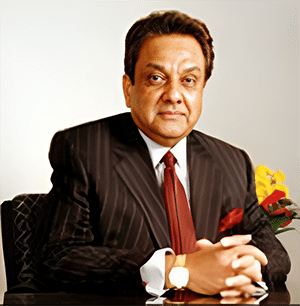 Mr. Khan Lateef Mohammad Khan Sahib (Late)
(The Founder of New Munsif)
Mr. Khan Lateef Mohammad Khan was an all-round personality who has had a very distinguished career in the field of education and business.
He was born in the historic city of Hyderabad.
After completing his education, he went to the United States, where he returned to India after a four-decade stay and settled in his hometown of Hyderabad. 
Education
Before moving to the United States, he studied B.Sc, Engineering and MBA from Osmania University. He was a student leader during his student days. He has also been the President of the Students Union of the prestigious Aiza School and the Secretary of the Students Union of the Osmania University Science College. Prior to that, he was secretary at City College in 1959 and captain of the football team. He has also been the President of the International Students Union of Eastern Illinois University, USA. After returning home, as he devoted himself to social work, he launched an educational campaign under which he established educational institutions from KG to PG level in which thousands of students were enrolled living in socially and economically backward areas. Mr. Khan Lateef Mohammad Khan arranged free education for them by spending crores of rupees.
Hometown
In view of economic stability, they have also set up various technical and training centers for women where illiterate women from poor families are given free training and are taught embroidery, sewing, beauty technician courses etc. These women and girls are provided with sewing machines and sewing materials free of charge. These centers have now become a source of employment for these women as they have been linked to the ready-made garment industry. After training, these women and girls are now earning thousands of rupees a month and living a comfortable life. As a result, the scourge of child labor is disappearing.
Munsif Journey
Even after setting many milestones in Western countries like the United States, he never forgot his hometown Hyderabad. He left no stone unturned in serving his country and nation. He strongly felt the need to promote the education movement for the betterment of the state. In order to inculcate high character and insight in the young generation, he associated himself with Sultan-ul-Uloom Education Society in 1990. Here too he carried out many development activities. He also played a key role in securing the college's affiliation with the National Board of Accreditation. In the same college he did a great job of starting a course like MCA. In 1999, he was re-elected President of the Society and continued to serve throughout his life. During this commitment, Mr. Khan Lateef Mohammad Khan also worked to promote modern and scientific education in various institutions run by the Society.
The Leader
He took over the reins of The Munsif Daily in 1996. In just two years, the newspaper became the number one Urdu newspaper in India. The various institutions he has set up in Hyderabad provide employment to hundreds of people. To promote art, drama, culture based on national unity, he also set up two cinema theaters Santosh 70mm and Sapna 35mm at Abids in the heart of Hyderabad, which are among the most popular cinemas in the city.
Sports Activity
He was instrumental in providing 5% reservations to the Muslims of the state in the field of education and employment. He paid a large sum of money out of his own pocket to pursue the case in the Supreme Court and appointed senior lawyers who debated in the commission constituted by the Andhra Pradesh government and the High Court. He also stepped forward to help the victims of the Gujarat riots, for which he raised Rs 1.26 crore. Mr. Khan Lateef Mohammad Khan built Munsif Colony there for the victims of Gujarat riots. He also played an important role in the field of sports. He spent huge sums of money on the development of football and volleyball through the City College Old Boys Association to provide opportunities to the youth of weaker sections.
Great Personality
In 2002, when the National Games were held in Hyderabad, he also gave a cash prize of millions of rupees to each player who won the competition. He also sponsored the National Junior Rowing Championship, which was held in Hyderabad from October 15 to 19, 2003. By constructing beautiful buildings in the city of Hyderabad, he also did important work in the field of construction. He also left his mark as a builder. He also built Lake View Apartments near Banjara Lake, followed by the Khan Lateef Khan Estate, a significant addition to Hyderabad's history. The building is located in front of Fateh Maidan Stadium where offices of multinational companies, Tata Consultancy Services, BSNL, Hale Canada and other leading companies are operating. A beautiful shopping complex has also been set up at Jalukhana, Lad Bazaar near the historic Charminar.
Social Activity
Mr. Khan Lateef Mohammad Khan has been a versatile personality. On August 6, 2020, this great personality, who took Urdu journalism to new heights and enhanced its prestige, gave a new lease of life to the standard of living of Urdu journalists, died in Chicago, Illinois, USA. He was buried in a Muslim cemetery in Chicago. Let the sky bring dew on his grave.
This website is running under The Munsif Daily & Mr. Abdul Jaleel is the Editor-in-Chief of the newspaper and website.
---
The Munsif Daily is the largest circulated Urdu newspaper of India according to Audit Bureau of Circulations, Mumbai, India.
Millions in Readership: The Munsif Daily has a daily readership of more than 1.2 million across India.
Worldwide Identity: Well known in India and in foreign countries like United States, Europe and Gulf.
Trusted Name for Decades: Our readers trust our content as we provide Genuine and Authentic information.
We are pleased to announce that The Munsif Daily has consistently maintained the position of the number one Urdu newspaper in India. The Audit Bureau of Circulation (ABC) has confirmed that The Munsif Daily has a daily readership of more than 1.2 million. We are grateful for the patronage of our readers and the support of our advertisers for this wonderful achievement.
Despite the difficulties faced in the field of print media all over India, Munsif has maintained its position. In addition to our positive approach and state-of-the-art technology, we have been able to maintain our number one position and lead over other dailies due to the patronage of readers and advertisers.
At present, the number one position is not limited to the state of Telangana but also to neighboring states like Andhra Pradesh, Karnataka and Maharashtra as well as to foreign countries, especially the United States, Europe and the Gulf countries. We are deeply grateful for the cooperation we have received without which we could not have achieved this unique position. We hope that the organization will continue to have such support to do even better in the future.
We are enhancing our Digital Scope
The Munsif Daily has entered the digital arena with full vigor and diligence. An excellent bi-lingual (Urdu-English) news website is at your service where you will find the latest news from around the world as well as articles, reviews and columns, content on various new and innovative topics. With a new innovation, The Munsif Daily has stepped into the digital arena to keep its readers up-to-date with the latest news in this fast-paced age of social media. For those who are interested in reading, you will have articles and analysis available in English and Urdu on various modern topics so that your thirst for reading different types of material will be quenched.
Social Media
Readers! As you know, today, with a flick of the finger, you get news from the United States, Europe and the Arab world through social media, but it is important to remember that more than half of the content on social media consists of fake news. In such a situation, a reader should recognize genuine and fake news. For this purpose, your own Munsif will be present on social media with full power and ability to keep the readers close to the real & genuine news and away from fake news. You can read the latest news in a timely manner using the Munsif's various social media platforms such as Facebook, Twitter, Instagram, Telegram and WhatsApp.