Hyderabad
Heavy rain brings Hyderabad to its knees
Heavy rain that lashed Hyderabad and suburbs early Tuesday left several colonies inundated, paralysed normal life and threw the vehicular traffic out of gear.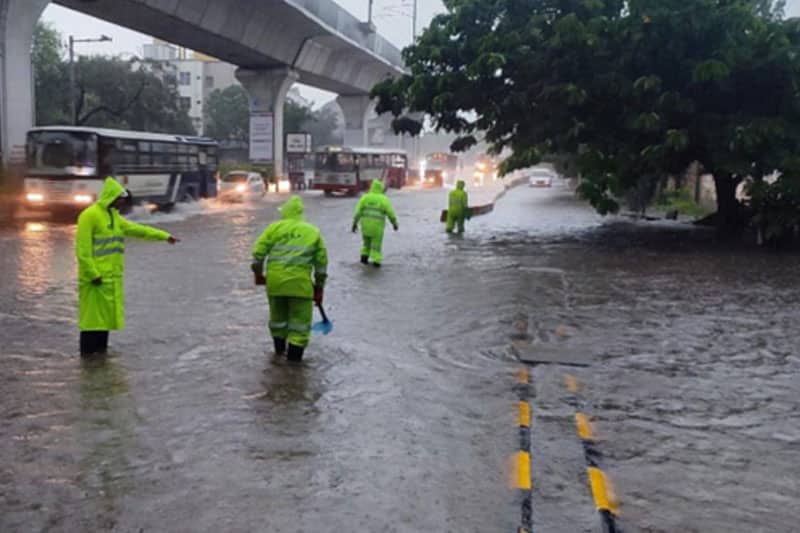 Hyderabad: Heavy rain that lashed Hyderabad and suburbs early Tuesday left several colonies inundated, paralysed normal life and threw the vehicular traffic out of gear.
Low-lying residential areas and those close to lakes and stormwater drains were inundated with roads turning into cesspools.
Overflowing water bodies and drains led to submergence of colonies. Flood water entered the houses in some areas, damaging household articles and causing severe hardships to people.
Authorities declared a holiday for all educational institutions following the heavy rain and in view of the forecast of more showers later in the day.
Roads in several areas were submerged due to massive downpour, badly affecting the movement of vehicles in usually busy areas. People going to offices and workplaces were caught in traffic jams.
Massive inundation at Shaikpet led to long traffic jams on the flyover and the road connecting Toli Chowki to IT hubs HITEC City and Gachibowli. Similar scenes were witnessed on Kukatpally-Moosapet and Erragadda-Moosapet roads.
Cyberabad Police asked the IT employees to opt from work to home. It urged the citizens to take all precautions in view of the forecast of heavy rains.
There was huge stagnation under Moosapet Metro Station while water from overflowing Kukatpally nala inundated the main road.
The movement of vehicles was badly hit on Punjagutta-Kukatpally road, one of the busiest traffic routes in the city. Traffic between Ameerpet and Begumpet also came to a halt.
Authorities deployed JCBs to rescue students stranded in hostels of various engineering colleges in Maisammaguda area. Hostel buildings of Mallareddy,St Peters and Narasimha Reddy colleges were submerged by the flood water.
Colonies in areas like Chintal, Uppal, Begumpet, Toli Chowki, Kukatpally, Bowenpally and Gandlapochamapally were inundated. Water from Fox Sagar submerged the roads in Srinivas Nagar in Chintal.
Residents complained that water entered their houses around 3 a.m., damaging household items. They blamed the negligence by the municipal authorities and local public representatives. A woman said politicians have no right to seek their votes in the coming elections without addressing the persistent problem of waterlogging.
Greater Hyderabad Municipal Corporation (GHMC) has sounded an alert. It appealed to people not to step out of their homes unless essential.
Disaster Response Force (DRF) teams were clearing water stagnation and fallen trees in various parts of the city.
GHMC commissioner said that the staff are on high alert due to incessant rainfall in the city. They were clearing stagnant areas and monitoring the nala flows.
Greater Hyderabad Mayor Vijayalaxmi Gadwal inspected the water logging near Balkampet Bridge. She instructed Zonal Commissioner and DRF teams to clear the water stagnation immediately. She requested citizens to travel only in emergencies and to take utmost care while travelling.
Picket nala was overflowing in Begumpet inundating roads and residential areas. The Allamtota Bai area was submerged. Begumpet-Balkampet underpass was completely inundated.
The city received 10-14 centimeter rainfall since early morning. Miyapur received the highest rainfall of 14. The rainfall in Kukatpally was 12.73 cm while it was 11.98 in Rajendranagar, 11.9 in Shaikpet and 11.68 in Khairatabad.
Meanwhile, state minister T. Srinivas Yadav directed GHMC officials to be on alert to minimize inconvenience to people. People may contact GHMC control room at 21111111, 23225397 for any emergency.
The minister asked officials to closely monitor the water level in Hussain Sagar Lake and Osman Sagar and Himayat Sagar reservoirs and also the flow in stormwater drains.