World
Man faces death while climbing "stairway to heaven"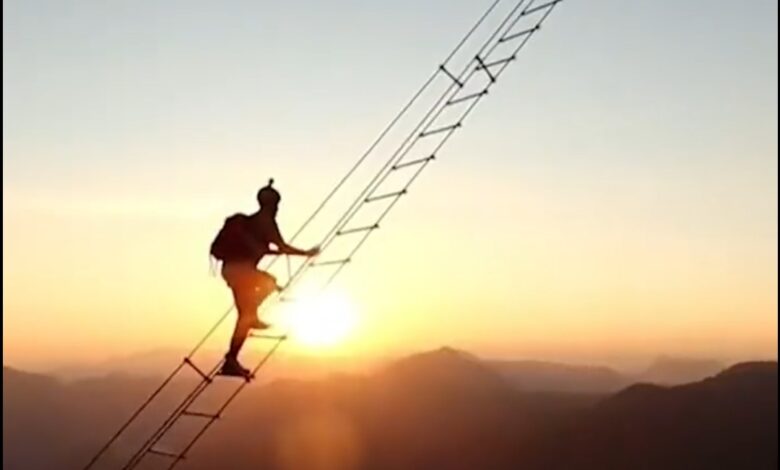 A British tourist tragically lost his life while attempting to ascend an aerial ladder in Austria, famously known as the "stairway to heaven," as reported by the Metro. This 42-year-old adventurer was solo-climbing the ladder, which stood at a towering height of over 90 meters, when a slip led to a fatal fall into the valley below on September 12.
Emergency services, including police officers and two rescue helicopters, swiftly mobilized to the scene in an attempt to save him. Regrettably, their efforts were in vain, and the man's life could not be preserved. Rescuers were able to recover his body.
Authorities have determined that no third-party negligence was involved, confirming that the climber was alone at the time of the tragic incident. The individual's identity remains undisclosed.
Situated in the Dachstein Mountains near Salzburg, the ladder is promoted as the "new premier attraction for climbing enthusiasts" on the tourist website of the Dachstein region. It is described as a climb divided into four stages, promising an "ultimate adrenaline rush."
"The Panorama-ladder, standing at 40 meters, is the latest top draw for via Ferrata enthusiasts. The via ferrata on the Donnerkogel at the Zwieselalm in Gosau at Dachstein offers astounding and awe-inspiring views of the Dachstein glacier, as well as Austria's tallest peak, the Grobglockner. The ladder to heaven was constructed by Outdoor Leadership, in collaboration with their seasoned climber, Heli Putz," states the website.
Nonetheless, it bears a caution that the ascent is suited exclusively for experienced climbers and should be undertaken under mild weather conditions with calm winds. It holds a rating of moderate to difficult and is not advised for beginners.
Follow Us