By Dr. Mohammed Iqtedar Husain Farooqi – Deputy Director (Retd.), National Botanical Research Institute (Govt. of India), Lucknow
Arabic Name: Khamt (Quran), Miswak (Tradition), Arak (Tradition), Shajaral-Miswak, Shajar al-Khardal.
Other Names: Mustard Tree, Toothbrush Tree (Eng.), DisFircasi Agasi (Turkish) Sikat gigi Pohon (Bhasa-Indonesian), Brosse a dent (Fr.) Zahnburste (Ger.) Spazzolino Albero (It.), Darakhte Miswak (Pers). Peelu (Hindi, Urdu, Beng.), Seerukalarwa (Tam.), Chinvargugu (Tel.).
Botanical Source: Salvadora persica Linn.
(Family: Salvadoraceae) – Small Tree or Shrub
Miswak (Tooth Sticks) may be defined as Natural Toothbrushes made from small branches of about 4 mm diameter from Arak (Arabic) tree, botanically identified as Salvadora persica, commonly known as Shajar al-Miswak in the Arab World. It is native to the Arabian Peninsula, Africa, Iraq, India, Pakistan, and Sri Lanka.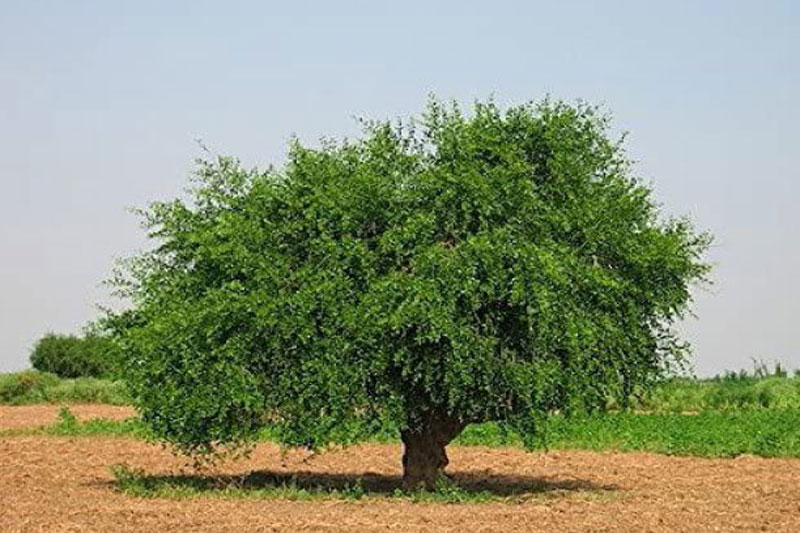 Prophet Muhammad (PBUH) advised his followers to clean teeth daily with Miswak (tooth sticks). Once he has been quoted as saying "you shall clean your mouth, for this is a means of praising Allah. "He also said that the Salat with Miswak is many times better than without Miswak.
Prophet of Allah was so concerned about the oral hygiene of his Ummah that he repeatedly insisted his followers to use Miswak for cleaning teeth conscientiously.
Prophetic traditions recommending Miswak to be used to maintain proper oral hygiene are in fact Islamic Contribution to Dental Care.
Important Traditions (Ahadith) on Miswak:
1. When the Prophet (peace and blessings of Allah be upon him) got up in the morning, he used to clean his mouth with a twig of Mustard Tree (Arak).( Ayesha (R); Bukhari, Muslim).
2. The Messenger of Allah (peace and blessings of Allah be upon him) said, "Were it not for my fear of imposing hardship on my people, I would have made it a duty to Miswak (brushing teeth with Arak) five times a day (before prayer). (Narrated Abu Huraira (R); Bukhari, Muslim).
3. Ayesha (R) said, "Prophet did Miswak (during last moments of his life). (Bukhari).
4. The Messenger of Allah, (peace and blessings of Allah be upon him), used to brush his teeth in the morning and evening. (Narrated by Abdullah bin Umar (R), Bukhari).
5. The Prophet said, "Using a tooth-stick (Miswak) has ten benefits" Makes the mouth fragrant and strengthens the gums. The sight becomes sharp. Expels phlegm. Relieves inflammation. It makes the angels happy. It pleases the Lord. (Narrated by Ibn 'Abbas (R); Abu Nuaim)
6. The Messenger of Allah, (peace and blessings of Allah be upon him) said: Miswak is something for cleaning the mouth and pleasing God. (God willing) (Narrated by Aisha (R), Bukhari, Narrated by Anas bin Malik(R), Abu Nuaim).
7. The Messenger of Allah, (peace and blessings of Allah be upon him) said that there are three types of Mistakes. If Pile (Arak) is not available, Annam or Bantam (Terabit), (Narrator, Abu Said (R), Abu Ma'am)
8- The Messenger of Allah (peace and blessings of Allah be upon him) said: Mistake cleans the mouth, pleases the Lord, increases appetite and makes the teeth shine. (Ana's bin Malik (R): Mustarded al-Hakim)
9- The Messenger of Allah, (peace and blessings of Allah be upon him), said: "I have taught you people to brush a lot." (Narrated by Ana's bin Malik (R), Bukhara)
10- When the Messenger of Allah, (peace and blessings of Allah be upon him), would leave home, he would first brush his teeth. (Narrated by Aisha (R), Muslim)
11. Aisha (R) narrates that the Prophet (peace be upon him) said, "The soak is a means of purifying the mouth and pleasing the Rabbi." (Nasal)
12. Ibn Umar (R) narrates that the Messenger of Allah Prophet Muhammad (peace be upon him) said: "Make a regular practice of the Miswak, for verily, it is healthy for the mouth, and it is a Pleasure for the Creator (Allah is pleased with the Muslims who uses the Miswak)." (Bukhari)
Recently many European and American Industries have shown great interest in exploiting this tree for its wood powder and extract in toothpastes and mouthwashes. This extract is reported to contain lot of salts and resins which are responsible for cleaning and shining of the teeth. Apart from Salvadorine and benzylisothiocyanate, Siwak extract contains calcium, salycylic acid, and fluoride. It has been shown to be antibacterial, antiplaque, analgesic, anticonvulsant, antibacterial, carminative, diuretic and astringent.
As per the Volza's Global Miswak Buyers & Importers Directory, there are 183 importers (Mostly from Europe) of Miswak, its powder and extract for their use in Toothpastes and Mouthwashes who imports from 105 Suppliers, mostly from India, Pakistan and some Arab Countries. The World Health Organization (WHO) has recommended the use of Miswak for oral hygiene and asked Health Organizations further research for its wider use.
Miswak is said to have many attributes including making the teeth white and fragrant, strengthening and giving vigor to the gums and teeth as well as clearing the mind, increasing the memory, quenching the bile, drying the phlegm, sharpening the eyes, stimulating the appetite, and relieving constipation: Miswak creates a fragrance in the mouth and eliminates bad odors.
The berries of Al-Arak are edible. It can be eaten raw. These berries have a taste of Mustard oil and, therefore, the tree is sometimes called Mustard Tree in English and Shajar e Khardal in Arabic. However, the true Khardal is Brassica nigra. Arak fruits, leaves and tender shoots are edible. Leaves make good fodder. Decoctions of leaves are used as a mouthwash, and masticated leaves for tooth and gum problems. Seeds contain 35% of greenish yellow, non-edible oil that contains lauric and myristic acids and can be used for soap and detergent making.
According to R.AL Sadhan, and Khalid Almas (Saudi Dental Journal, 80, 1999): Miswak (chewing stick) was used by the Babylonians some 7000 years ago; it was later used throughout the Greek and Roman empires and has also been used by ancient Egyptians. It is used in different parts of Africa, Asia-especially the Middle East and South America. In Middle East, Arak (Salvadora persica) for Miswak is very common. The use of Miswak is a pre-lslamic custom, which was adhered to by the ancient Arabs to get their teeth white and shiny. This custom was adopted and Islamized by Prophet Muhammad (PBUH) around 543 AD.
Some of the known commercial toothpastes produced from Salvadoran persica wood extract are: Sarkan, (UK); Quali-Meswak, (Switzerland); Epident, (Egypt); Siwak-F, (Indonesia); Miswak Plus, (Saudi Arabia)
According to M.I.H. Farooqi & Dr. J.G. Srivastava (Journal of Crude Drug Research, Volume 8, Issue 4, 1968 (Switzerland): Toothbrush tree is also planted near Muslim Tombs of India where its twigs and root bark is commonly used as toothbrush. It is good remedy for bleeding gums.
Its utility as toothbrush is largely due to its antibacterial property and also because of the presence of large amounts of inorganic salts and small amount of resin which acts like a protective layer on the teeth. Its fragrant flowers are used in leprosy& gonorrhea, Fruits are diuretic and carminative.
Leaves are used in cases of pile, rheumatism and several other diseases. Of late there has been a demand from Pharmaceutical Industries of several Western Countries for Salvadora persica. It is claimed that toothpastes containing extract of Salvadora persica preserve gum and the teeth in perfect health and give the latter a dazzling whiteness.
Salvadora persica is an evergreen shrub or small tree tolerant to soil salinity. It is widely distributed in arid and semi-arid regions of India and found in Punjab, Haryana, Rajasthan, Gujarat, Karnataka and Tamil Nadu states of India.
According to M.M. Haque and S.A. Alsareii, (Saudi Medical Journal, 2015, 36(5), 530): Recent studies have shown that Miswak is better than many toothpastes for preventing gum diseases. The sulfur compounds present in Miswak as shown by its smell have a bactericidal effect.
According to Gerrit Bos (Journal Medical History 1993, 37:68-79)
Prophet was a fervent supporter of Siwak use. But for Muslims it is not obligatory although highly desirable. Islam has accorded an elevated status to the Miswak.
Salvadora persica is an upright evergreen that grows as a small tree or shrub.
English and Saudi researchers have shown that the wood of the arak tree prevents plaque and inflammation of the gums. Ibn Sina says that Miswak should be used in a moderate way, not excessive way (at a time) to get white and strong teeth and strong gums. There were etiquettes among Arabs for using Miswak. It should not be used while speaking or lying on the bed, not while walking on the street, not in dirty environment and not in presence of mob (when at the center of everyone's attention).
Do not to use the stick too long. The used Miswak should be covered with a piece of Linen to prevent dirt on the used part. In case of bad mouth, the Linen may be moistened with Rose Water before covering the stick. Arabs also used the toothpick, which was called Khilal. However, excessive use of the toothpick (idman al-khilal) was discouraged as by playing with it may cause wounds in the gums.
Well known al-Razi also remarks: "The Miswak dries the tongue and is good for the foul breath of the mouth; it purifies the brain, refines the senses, polishes the teeth, and strengthens the gums. Some Scientists consider that Unique Trees of Miswak should be conserved because Miswak is nature's gift for oral hygiene.
Follow Us