Social Media
Wali Rahmani Launches Video Campaign To Bridge Educational Gaps for Underprivileged Muslim Children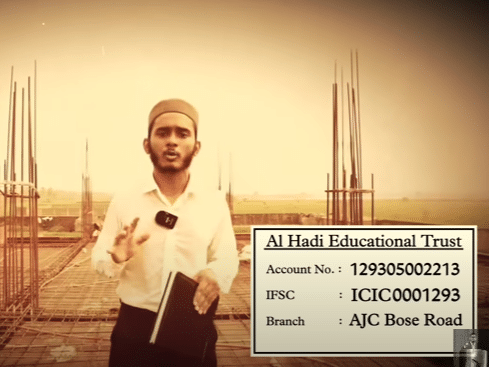 The National Commission for Protection of Child Rights (NCPCR), the leading authority safeguarding the rights of Indian children, recently unveiled alarming statistics regarding education and poverty. It revealed that in 2021, 1 million individuals had to drop out of school due to financial constraints.
In response, 23-year-old law student Wali Rahmani from Kolkata has taken it upon himself to make a difference, particularly focusing on the educational plight of Muslims, who face significant challenges in this regard.
Wali Rahmani, a final-year law student at Kolkata, has a stellar educational background, having studied at renowned institutions like St. James, Kolkata, and Genesis Global School, Noida. He even clinched a national-level gold medal in a debate competition while at the Singapore International School.
With a vision to provide "Convent-style" education to underprivileged girls and boys from Muslim families, Wali established Umeed Academy. Starting with 10 children in 2018, the Umeed Foundation and school project began.
Wali's ultimate goal is to offer top-notch education to a large number of Muslim students. A new Umeed Academy campus, encompassing a school, separate hostels, a football ground, and a basketball court, is under construction on a two-acre plot near Kolkata. However, financing such an endeavor is beyond one individual's means.
To fund this ambitious project transparently, Wali Rahmani launched a video campaign on social media, suggesting that if 1 million Muslims each donate Rs 100, it would generate a substantial sum to turn his dreams, and those of countless impoverished children, into reality.
Wali emphasizes the staggering dropout rates among Muslim students, citing data from both the NCPCR and the 2019 report by the National Council for Applied Economic Resources, which indicates that 21 percent of Muslims in India live below the poverty line.
Wali's impactful message has resonated widely, with people generously contributing, and his video being widely shared across platforms. With over a million followers on social media, Wali Rahmani's influence extends beyond the digital realm, as he frequently participates in national television debates.
He firmly believes that leaders are forged through actions, not born. Recognized as the Young Social Hero at the South India NGO Conference in 2019, Wali Rahmani is also the founder of the Al Hadi School Trust.
For Wali, Umeed Academy symbolizes more than an institution; it's an embodiment of a dream. The academy is dedicated to empowering destitute children and orphans, helping them take charge of their own lives, and transforming them from perceived liabilities into valuable assets for society.
The academy's curriculum harmonizes worldly education with Islamic principles, instilling both civilization and spirituality in its students. Wali envisions that every Umeed Academy graduate will be equipped to become a builder and leader in their own right.
By following the CBSE curriculum with a focus on outcome-based learning, discussion, debate, and interdisciplinary learning, Umeed Academy strives to provide quality education to the underprivileged. The school also addresses the health needs of its predominantly malnourished students.
Furthermore, the Umeed Foundation is committed to combating various social issues including child marriage, sexual violence, lack of awareness about menstrual hygiene, child labor, drug addiction, and drug-induced environments faced by children from marginalized communities.
Research and presentation have been integrated into the curriculum, particularly emphasizing subjects like science and social studies. The academy also offers kickboxing and martial arts training, providing students with essential self-defense skills.
In addition to its educational mission, Umeed Academy takes a comprehensive approach to addressing the broader social challenges associated with illiteracy. They work towards creating a nurturing environment where children can develop into unique individuals with strong values and ethics.