World
Dr Aafia Siddiqui reunites with sister after 20 years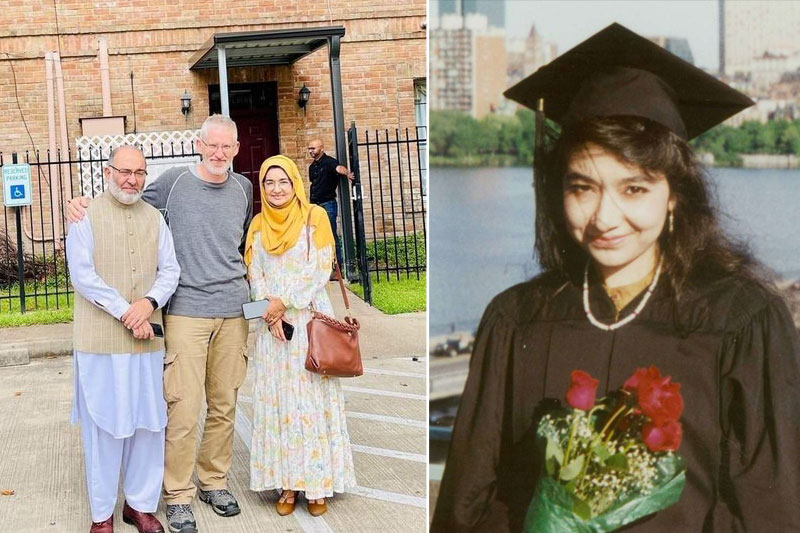 Dr. Aafia Siddiqui, a Pakistani citizen imprisoned in the United States, was finally reunited with her sister, Dr. Fowzia Siddiqui, after a period of 20 years. This significant development was confirmed by Senator Mushtaq Ahmed Khan of Jamaat-e-Islami, who shared the news on a social media platform. The senator expressed that he wanted people to listen to the sorrowful account of Dr. Fowzia's meeting.
According to Senator Mushtaq Ahmed, this long-awaited meeting lasted for two and a half hours. However, Dr. Fowzia Siddiqui was not permitted to embrace or shake hands with Dr. Aafia Siddiqui. She was allowed to show pictures of Siddiqui's children. During the meeting, there was a thick glass barrier between them in the jail room. Dr. Aafia Siddiqui, wearing a white scarf and a khaki prison dress, could be seen through the glass.
In the initial hour of their meeting, Dr. Aafia Siddiqui shared details about the daily torture she has been enduring. It was also revealed that the status of her mother's death is unknown. Additionally, it was mentioned that Dr. Aafia Siddiqui had lost her front teeth due to an attack in prison and was experiencing hearing difficulties caused by a head injury.
Senator Mushtaq Ahmed emphasized the importance of raising voices and pressuring the authorities to take immediate action in advocating for Dr. Aafia Siddiqui's release from American custody. He announced that he, along with Dr. Fowzia Siddiqui and Clive Stafford Smith, would be meeting Dr. Aafia Siddiqui in jail the following day. It should be noted that Fowzia Siddiqui obtained a visa to the United States on May 9, 2023, specifically to meet her sister.
Dr. Aafia Siddiqui, who studied biology and neuroscience at the Massachusetts Institute of Technology and Brandeis University, lived in the United States from 1991 to June 2002. Despite denying the allegations against her, including possessing or being familiar with weapons, she had reportedly been missing for five years before being found in Afghanistan.