Pan India
Heavy rain causes plane crash on Mumbai airport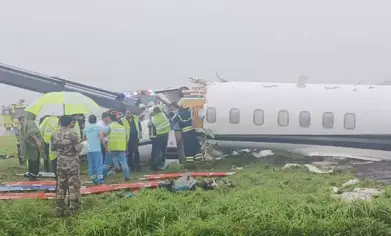 On Thursday evening, amidst heavy rainfall, a Learjet 45 belonging to VSR Ventures, en route from Vizag, veered off the runway at Mumbai airport during landing.
The incident occurred at approximately 5:02 pm on Runway 27 with visibility at 700 meters. Thankfully, there have been no reported casualties, although the extent of damage to both the aircraft and the runway remains uncertain.
The private plane was registered under VSR Ventures and not, as previously mentioned, Dilip Buildcon. This incident has led to disruptions in operations at Mumbai airport, one of the busiest in India.