Hyderabad
Housing for Journalists; DJHS representatives meet MLC Kavitha
During the interaction, she sought to gain insights into the workings of DJHS.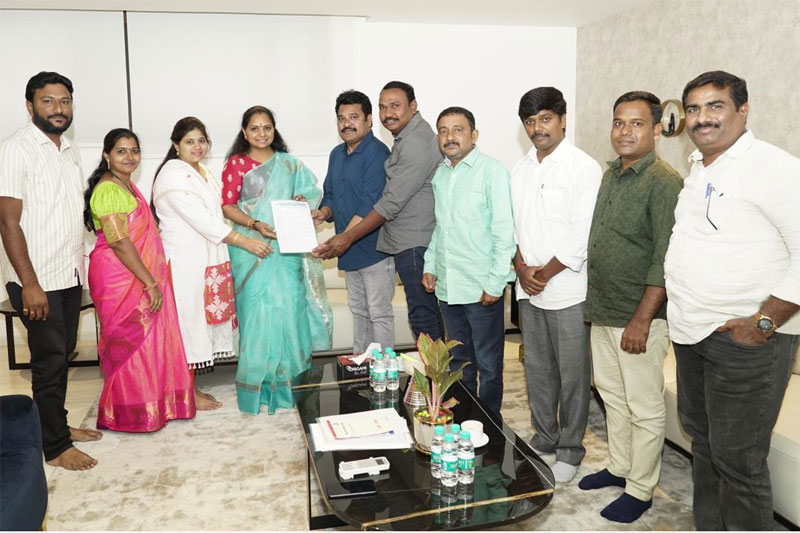 Hyderabad: Delegates from the Deccan Journalists Housing Society (DJHS) convened a meeting with MLC Kalvakuntla Kavitha to deliberate on the pressing the matter of housing for journalists.
On Tuesday, President of DJHS, Bolloju Ravi, Vice President Maripala Srinivas, Treasurer Chilukuri Ayyappa, Directors Danda Ramakrishna, Advisor Mallikarjun Reddy, as well as Members Vemulapalli Raju, Pratibha Devi, Shravani, and others, engaged in discussions with MLC Kavitha.
During the interaction, she sought to gain insights into the workings of DJHS.
The representatives expounded that 'DJHS' holds the distinction of being the foremost journalist housing society established subsequent to the formation of the Telangana state.
They elaborated that longstanding members of their society are individuals who have dedicated decades to the field of journalism. The initiative undertaken by Chief Minister CM KCR to provide housing for journalists' housing societies across multiple districts of the state was highlighted.
Expressing optimism, they opined that these endeavors spearheaded by CM KCR would undoubtedly yield residences for journalists.
Drawing attention to a prior meeting with Minister KTR, the DJHS delegates recounted his commitment to furnish journalists with housing.
They urged MLC Kavitha to seize the initiative and facilitate the allocation of homes for them. To underscore their plea, a petition was submitted to her during the course of the meeting.
MLC Kalvakuntla Kavitha assured the gathering that she would stand as a staunch advocate in materializing the cherished aspiration of journalists to acquire their own homes.