Hyderabad
Hyderabad: Woman constable saves young girl's life at Begumpet Railway Station_Video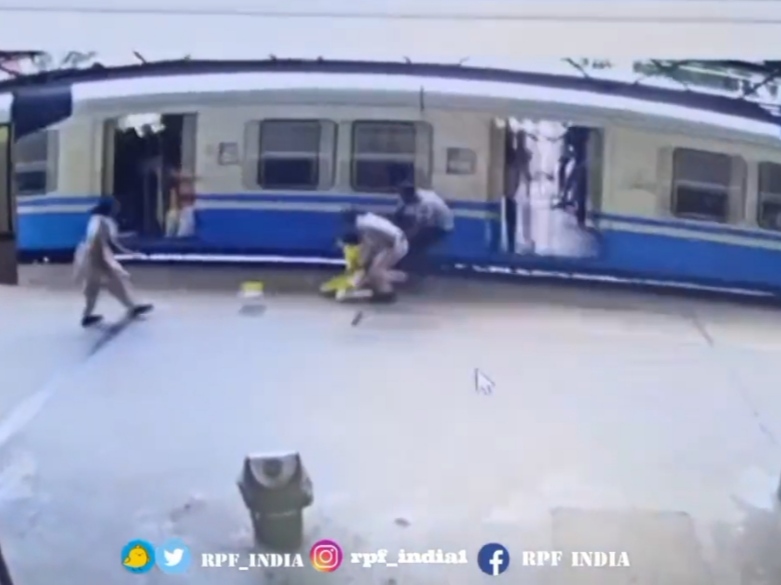 Hyderabad: In a heart-stopping incident at the Begumpet railway station in Hyderabad, a young woman's life was saved by the quick action of an alert and courageous RPF woman constable. The incident occurred on Tuesday morning when the Lingampally – Falaknama MMTS train arrived at the station at 9 am.
As the train prepared to leave Begumpet station and continue its journey, a young woman named Saraswati attempted to board the moving train. Unfortunately, as the train gained speed, she lost her balance and fell into the dangerous gap between the platform and the train. The situation was dire, and it seemed as though a tragedy was imminent.
However, luck was on Saraswati's side that day, as RPF woman constable Sunita happened to be present at the scene. In a remarkable display of alertness and bravery, Constable Sunita sprang into action without a moment's hesitation. Recognizing the imminent danger faced by Saraswati, she reached out and managed to grab hold of her, pulling her back to safety just in the nick of time.
The swift and heroic action of Constable Sunita undoubtedly saved Saraswati's life, and her bravery has earned her well-deserved praise from both railway officials and netizens alike. Sunita, who hails from Nalgonda, had joined the Railway Protection Force as a constable in the year 2020 and is currently stationed at Begumpet Railway Station.
Netizens have lauded Constable Sunita for her quick thinking and courage, highlighting her as an exemplary officer who embodies the values of the RPF. They also emphasized the importance of spreading awareness among passengers about the potential dangers of attempting to board or alight moving trains. Such incidents can lead to tragic consequences and should be avoided at all costs.
As news of the incident spread, netizens took to social media platforms to express their admiration and gratitude towards Constable Sunita. Many praised her as a true hero and a symbol of hope in a time when acts of bravery and selflessness often go unnoticed. The incident serves as a reminder of the countless unsung heroes who work tirelessly to ensure the safety and well-being of others.
Her actions serve as an inspiration to all, reminding us that in times of crisis, a single person's courage and quick thinking can make all the difference between tragedy and salvation.