World
Muslim rulers' role on Gaza mirrors that of Mir Jafar and Mir Sadiq: Siraj-ul-Haq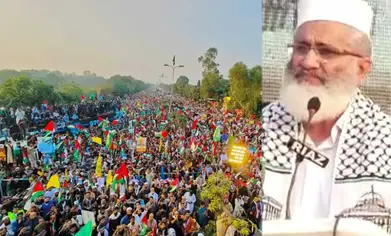 Amir Jamaat-e-Islami Siraj-ul-Haq asserted that Muslim rulers' role on the Gaza issue mirrors that of Mir Jafar and Mir Sadiq.
Speaking at the Gaza March in Lahore, he emphasized that the massive gathering sends a global message: Palestinians are not isolated; we stand by them. Israel, a creation of imperialist forces, remains unrecognized by Palestinians.
Haq condemned Israel's oppression of innocent Palestinians, declaring Jerusalem, after the Kaaba and Prophet's Mosque, the holiest for Muslims. He criticized Israel's actions, stating the world is divided between oppressors and the oppressed.
The Amir urged Muslim rulers to respond to the cries of Gaza, emphasizing the Palestine issue's connection to belief and ideology. He condemned the OIC meeting as an attempt to pacify Muslim sentiments, likening current rulers to Mir Jafar and Mir Sadiq.
Haq expressed solidarity with the global community supporting Palestinians and stressed the ongoing commitment to stand by them.
Follow Us