Pan India
Chandrayaan 3: Pragyan descends from Vikram; walks on moon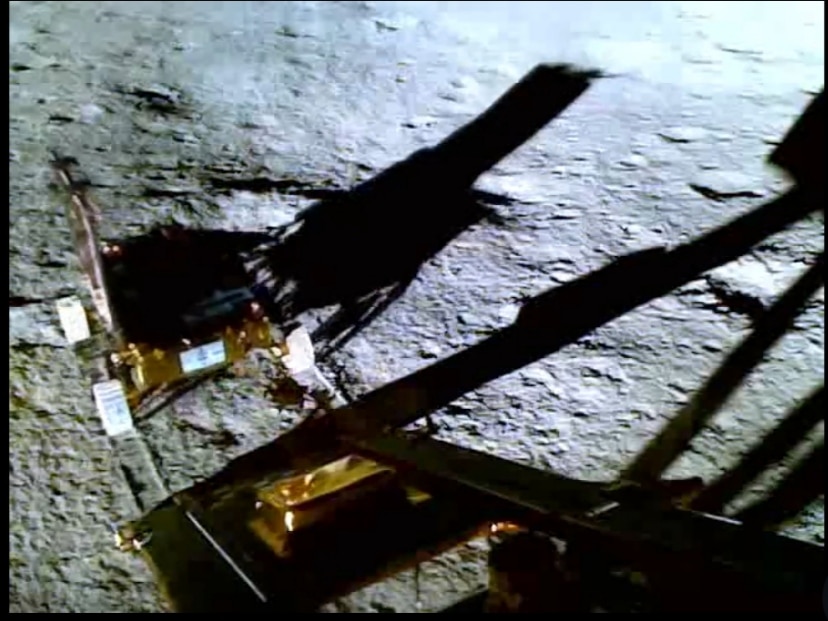 The Indian Space Research Organisation (ISRO) has unveiled the highly anticipated footage of the Pragyan rover descending from the Vikram lander and traversing the lunar surface. Here's a comprehensive timeline outlining the key milestones of the Chandrayaan 3 mission:
– July 6: ISRO announces the launch date of Mission Chandrayaan-3 as July 14 from Sriharikota's second launch pad.

– July 7: Successful completion of vehicle electrical tests.

– July 11: Conclusion of a comprehensive 24-hour 'Launch Rehearsal,' simulating the entire launch process.

– July 14: LVM3 M4 vehicle launches Chandrayaan-3 into its designated orbit.
– July 15: Successful execution of the first orbit-raising maneuver, reaching a 41762 km x 173 km orbit.

– July 17: Chandrayaan-3 placed in a 41603 km x 226 km orbit through the second orbit-raising maneuver.

– July 22: Completion of the fourth orbit-raising maneuver, positioning the spacecraft in a 71351 km x 233 km orbit.

– July 25: Successful execution of another orbit-raising maneuver.

– August 1: Chandrayaan-3 inserted into translunar orbit (288 km x 369328 km).

– August 5: Successful lunar orbit insertion (164 km x 18074 km).

– August 6: Reduction of lunar orbit to 170 km x 4,313 km.

– August 9: Controlled adjustment of spacecraft's orbit around the moon to achieve 174 km x 1437 km.

– August 14: Chandrayaan-3 approaches the moon's surface, settling into an orbit of 150 km x 177 km.

– August 16: The spacecraft executes its fifth and final Moon-bound maneuver, achieving a near circular lunar orbit of 163 km x 153 km.

– August 17: Separation of the landing module, consisting of the Vikram lander and Pragyan rover, from its propulsion system.

– August 18: Successful completion of a 'deboosting' operation, reducing the orbit to 113 km x 157 km.

– August 20: Chandrayaan-3 performs a final orbit adjustment, reaching around 134 km x 25 km, marking its farthest and nearest points from the moon respectively.

– August 23: ISRO achieves a historic moment with the successful landing of the Vikram lander, with all systems functioning as intended.