Sports
Emerging Future Cricket star Shahbaz Ahmed
Kohli like player praised Future Cricket star Shahbaz's performance in the recent victory of RCB!
The Shahbaz Ahmed hero of RCB's victory, a resident of Shikrawa village of Mewat district in Haryana. His father Ahmad Jan is an SDM reader in Palwal, like the other middle-class family, he wanted his son to work as a civil engineer and support their family.
For the purpose of good education for their children they left the village and settled in Hathin. After completing his 12th standard in 2011 his father Ahmed enrolled Shahbaz to Manav Rachna International University in Faridabad so that he could become an engineer.
Unfortunately it took 11 years for Shahbaz to complete his 3-year degree. Ahmed Jan says, Shahbaz was very much into cricketing career that he has completed his degree in 2022, but may have completed it in 2015 if he could have studied it in a regular manner.
HONORED PARENTS OF YOUNG CRICKET STAR
I have no regrets now, I got the honour that may have not got it if Shahbaz had not become a cricketer. Ahmed Jan Added that he did not know that his son was not interested in studying engineering in Faridabad. Shahbaz was banking classes to play cricket.

He found out about this when he received a message from the University that his son was not attending classes. He then asked Shahbaz to choose between studies or Cricket and should pay attention to whichever he chooses.
YOUNG CRICKET STAR CHOOSES CRICKET OVER STUDIES
Then Shahbaz chose cricket and decided to focus on it. After that he started going to the cricket academy located in Tehri, Gurgaon. There, Coach Mansoor Ali trained him. Shahbaz's father said that after graduation, his friend Pramod Chandila took him to Bengal to play cricket.
Chandila also plays club cricket in Bengal. Shahbaz got a place in the Bengal Ranji team in 2018-19 after performing well in the domestic tournament there. He was then selected in the India A team in 2019-20.
SELECTED BY RCB FOR IPL
Then in the 2020 IPL auction, Royal Challengers Bangalore bought Shahbaz for Rs 2 million. However, they had the opportunity to play only 2 matches in the UAE. He was also part of the RCB team in 2021.  
In the Ranji Trophy 2020 season, Bengal needed 127 runs to win against Rajasthan when Shahbaz Ahmed came to the crease. The team had lost 5 wickets and the match was getting out of their hands.
I WANTED TO BE BEN STOKES FOR THE TEAM
At the same time, playing his ninth awesome inning, Shahbaz, along with the lower order, set a new record for the team. Let's just say he played an innings like Ben Stokes and after that he said he wanted to be Stokes for the team.
Shahbaz was confident that he wanted to be the kind of player who could win the match for his team in any situation and the brilliant star Shahbaz has lived up to his word not once but twice in a row.
The Royal Challengers Bangalore match was in the middle of nowhere after losing their top order against KKR on March 30. Then Shahbaz turned the match around by hitting 2 sixes in one over by Andre Russell. Taking a step forward on Tuesday, he played an innings that pulled RCB out of the mire of defeat.
Shahbaz came on the field after losing 2 wickets on consecutive balls against Rajasthan Royals. In front was Yuzvendra Chahal, a spin bowler who had bowled David Willie.
Shahbaz easily defended Chahal's first league break ball. The Bengal all-rounder faced just 26 balls and scored a crucial 45 with the help of 4 fours and 3 sixes.
This was the second time in a row that he had appeared in the lower middle order. Until last season, Shahbaz did not have a fixed position in this batting order. Sometimes he was dropped to third or he came to bat at seventh. However, this season, it seems that RCB has given him a clear role.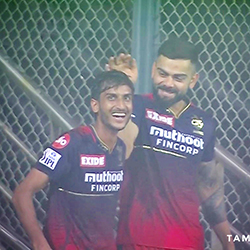 KOHLI LIKE PLAYER PRAISED SHAHBAZ
Team India and former RCB captain Kohli also praised Shahbaz Ahmed and called him the best all-rounder of the future. Kohli said that Shahbaz has emerged as a reliable batsman this season.