News
North India
Met Warns of Heavy Rain and Flash Flood Risks in Himachal Pradesh from August 22-26
The Met office issues alerts for heavy rain in Himachal Pradesh from August 22-24 and highlights the risk of flash floods in Chamba and Mandi districts.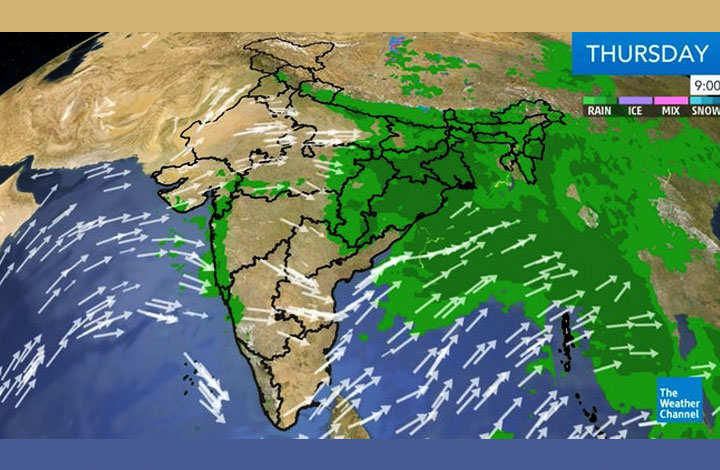 Shimla: In a recent update from the Met office, the residents of Himachal Pradesh have been cautioned about an imminent spell of heavy rainfall and potential flash flood risks. According to the meteorological predictions, the state is set to experience heavy to very heavy rain between August 22nd and 24th, marked by an 'orange alert'. Furthermore, the weather authority has issued a 'yellow alert' for heavy rain on August 21st. Despite a relatively subdued monsoon period, isolated regions of the state encountered light rain on Sunday.
The anticipated heavy downpour raises concerns about various weather-related hazards, including landslides, flash floods, and elevated water levels in rivers and drainage systems. The potential consequences of this weather event extend beyond the immediate disruption of daily life; it could lead to the destruction of standing crops, fruit plants, and young seedlings. In addition to the direct impact on agriculture, the torrential rain may also trigger damage to infrastructure, road networks, and housing.
In a specific cautionary note, the Met office highlighted the moderate risk of flash floods in the catchment areas of Chamba and Mandi districts. Residents in these regions are urged to remain vigilant and take necessary precautions to mitigate the potential dangers associated with rapid flooding. While the Met office predicts the heavy rain to continue till August 26th, it is crucial for local authorities and residents alike to stay informed about the changing weather patterns.
The picturesque state of Himachal Pradesh, known for its scenic landscapes, often faces the challenges posed by monsoon-related incidents. The susceptibility to landslides and flash floods necessitates proactive measures to safeguard lives and property. As the Met office's warning gains attention, it becomes imperative for communities to be prepared for any eventuality. Authorities are likely to be closely monitoring river levels, landslide-prone areas, and potential flood hotspots to ensure timely response and evacuation if necessary.
The meteorological forecast of heavy rain and the accompanying risk of flash floods highlight the need for comprehensive disaster preparedness. The Met office's 'orange alert' underscores the urgency of the situation, especially in Chamba and Mandi districts. Residents and authorities must work together to mitigate the potential impacts of this weather event on various fronts, including agriculture, infrastructure, and safety.