Business
PharmaLytica 2023: Unlocking Doorway to a Comprehensive Understanding of India's Evolving Pharma Landscape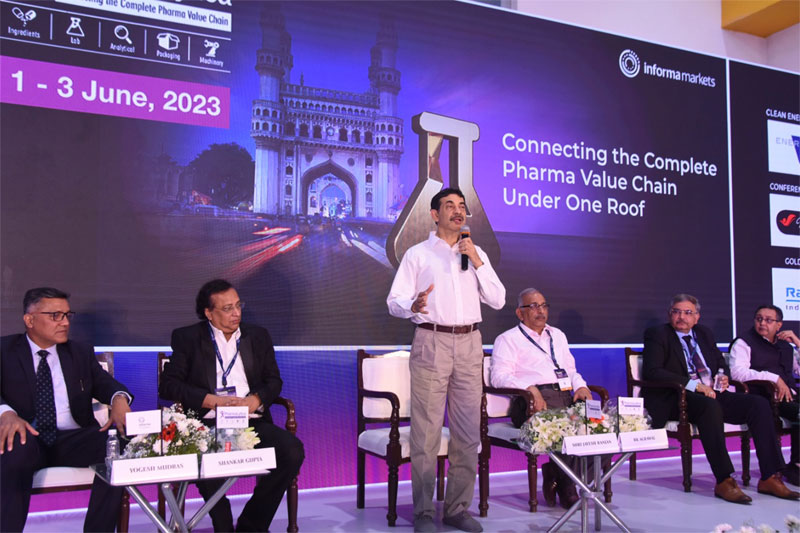 150+ Exhibitors
6000+ Trade visitors
250+ Delegates
Enhanced Focus on Robotics and Digitalization
Hyderabad: The 9th edition of PharmaLytica, a premier pharmaceutical exhibition, commenced today with an unwavering commitment to adapt to the changing healthcare landscape, and meet dynamic patient and business requirements.
Organised by Informa Markets in India, the three-day event is taking place at HITEX, Hyderabad, hosting over 150 exhibitors.
Allied to South Asia's largest B2B Pharma event, the CPhI & P-MEC India show, PharmaLytica is expected to witness over 6000 domestic and international visitors from 16 countries and 21 Indian states, and approximately 250 delegates over the duration of the expo.
With a remarkable surge in footfall on its opening day, the PharmaLytica expo has set a positive tone for the remaining days, promising unparalleled networking opportunities, knowledge exchange, and ground-breaking prospects within the pharmaceutical industry.
This event serves as a testament to India's vision of becoming the pharmacy of the world, providing a platform that contributes significantly to achieving this ambitious objective. The future of pharma will leverage Robotics and Digitalization to a significantly high degree.
These include the use of automated systems, data analytics, and cloud-based architecture, which attendees can witness at PharmaLytica 2023.
The event commenced with a grand opening ceremony, graced by key dignitaries including Chief Guest Shri Jayesh Ranjan, IAS, Principal Secretary to Govt, Industries & Commerce Dept Government of Telangana; Dr. A Ramkishan, Deputy Drugs Controller (India), CDSCO; Mr. Shankar Gupta, Chief Sales Officer, ACG; Mr. RK Agrawal, National President, BDMA; Mr. Avinash Kumar Talwar, Vice President, Dr. Reddy's Laboratories, Mr Yogesh Mudras, Managing Director, Informa Markets in India and Mr Rahul Deshpande, Senior Group Director, Informa Markets in India.
On the occasion of the 9th edition of PharmaLytica, Mr. Yogesh Mudras, Managing Director, Informa Markets, India, stated, "with a current value of around $50 billion, India is the third largest pharmaceutical industry in the world. Current projections state this will grow in revenue to $130 billion by 2030. As the Indian pharmaceutical industry charts its path towards becoming a global powerhouse, this expo stands as a crucial event for industry players, investors, and stakeholders to come together, capitalize on the projected revenue growth, and contribute to this remarkable success story. All this is made possible through the expo's pan-India footprint ensuring unparalleled exposure and access to a broad range of industry professionals from around the world which we witnessed here today."
PharmaLytica is well-supported by the key govt body, Invest Telangana along with associations such as Bulk Drug Manufactures Association of India and Karnataka Drugs and Pharmaceuticals Manufactures Associations.
Alongside the exhibits, PharmaLytica's knowledge-filled conference enabled attendees to garner rich industrial insights through trending topics such as Challenges and opportunities in moving towards digitalization, strategies for maintaining a global supply chain in a constrained environment and new analysis methods for the optimization of processes in the laboratory to transform labs into smart technological labs.
The discussions today included subjects such as 'Why the pharmaceutical industry is turning to outsourced manufacturing?' , 'Solar PV Adoption for Pharmaceutical Industry for their operational cost savings and sustainability goals'; 'Latest developments and trends in the Pharma API industry'; 'Scientific approaches to analytical procedure development' and 'Pioneering laboratory knowledge – Future of Lab.
In keeping with the times, the PharmaLytica Digital Marketplace has been launched, as a premier wholesale marketplace dedicated solely for sourcing Pharma Machinery and Packaging, Pharma API, Lab, Analytical and Other Pharma allied products.
The marketplace is ready to support customers with unique digital solution backed by Informa Markets' array of trade shows and conferences across pharma and over 3 lac professional buyers and suppliers.
The growth potential of the Indian pharmaceutical industry is attributed to its large domestic market, cost-effective manufacturing capabilities, and skilled workforce. Supported by the government's policies and initiatives like "Pharma Vision 2020" and "Make in India," India aims to become a global pharmaceutical hub.
PharmaLytica 2023 offers a unique platform to explore the factors driving the industry's growth and foster discussions, collaborations, and partnerships. Over the next two days, attendees can seize opportunities that will propel the industry towards achieving ambitious revenue targets.