North India
Politics over Savarkar intensifies in poll-bound MP
Politics over Hindutva ideologue Vinayak Damodar Savarkar seems to have intensified in poll-bound Madhya Pradesh with both the principal parties -- Congress and BJP -- exchanging frequent barbs over the freedom fighter.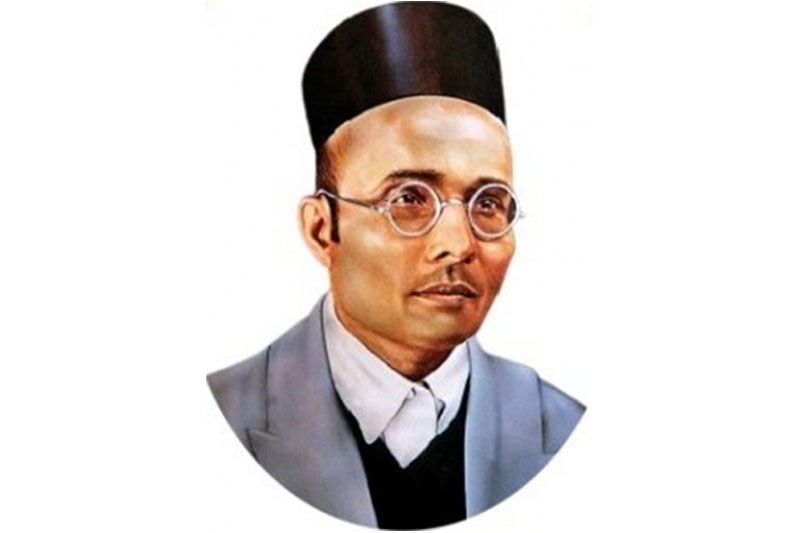 Bhopal: Politics over Hindutva ideologue Vinayak Damodar Savarkar seems to have intensified in poll-bound Madhya Pradesh with both the principal parties — Congress and BJP — exchanging frequent barbs over the freedom fighter.      
With the BJP ceaselessly proclaiming its devotion to V. D. Savarkar and his ideology, its Madhya Pradesh unit, which is in power at present, has decided to include his biography in school syllabus.
The announcement was first made by State School Education Minister Inder Singh Parmar, alleging that the Congress, which ruled the country for a major part after Independence, ignored many revolutionaries while concentrating on glorifying just one family.
The minister's mention of "one family" was in reference to "Nehru-Gandhi family".
Later, Madhya Pradesh Chief Minister Shivraj Singh Chouhan confirmed that Savarkar's biography would be included in the school syllabus as part of the National Education Policy (NEP).
Chouhan said Savarkar served double life sentences in the infamous Cellular Jail in the Andamans and such was the rigors that he came to know about the incarceration of his brother (Ganesh Savarkar) "years later".
"Even today if you go to Cellular Jail, you will know how he lived there. Lessons on someone who dedicated his entire life to the nation will be taught in schools," Chouhan further said,
Along with Savarkar, others whose biographies are proposed to be included in the school syllabus are Bhagwan Parshuram, Bhagat Singh, Rajguru, Subhash Chandra Bose etc.
Lessons of the Gita will also be included (in the syllabus) as part of India's knowledge tradition so that people get to know about their contribution, as Chief Minister Chouhan said on Thursday.
However, it's not the first time CM Chouhan made an announcement of teaching Savarkar's biography to the school students in the state. As per the reports, a similar announcement was made back in 2011 also, however, it could not be executed due to unknown reasons.
State Congress made a prompt reaction regarding Savarkar's biography to be included in school syllabus and called it an attempt by the ruling BJP to divert attention from real issues ahead of the assembly elections. 
Congress MLA from Bhopal, Arif Masood, reacting on the matter said, "It is unfortunate that they want to include Savarkar. He apologised to the British and including him in the syllabus is an insult to freedom fighters."
It is an established fact that the Rashtriya Swayamsevak Sangh (RSS) backed Bharatiya Janata Party (BJP) and Congress stand apart on Savarkar's issue.
While the right-wing supported BJP would glorify Savarkar, calling him "Veer Savarkar", the Congress with liberal and secular tags, would attack on the BJP and RSS in the name of Savarkar.
For instance, during the Bharat Jodo Yatra from Kanyakumari to Jammu and Kashmir, Congress leader Rahul Gandhi continued to corner the Prime Minister Narendra Modi-led BJP government on the name of  Savarkar.
Often BJP and Congress would often be seen exchanging barbs over V. D. Savarkar.
Notably, in November last year, Rahul Gandhi had shown some old documents during a press conference in Akola district of Maharashtra claiming they contained a letter written by Savarkar to the British.
He had then read out a part of the letter which said, "I beg to remain your most obedient servant."
As a reaction, right wing organisations had put up posters in Burhanpur city criticising his remarks on the freedom fighter and staged a protest just a day before the Bharat Jodo Yatra entered Madhya Pradesh.
In Madhya Pradesh, where the elections are barely four months away and the BJP and Congress are in direct contest for 230 Assembly seats, Savarkar's biography is more likely to spark a political controversy.
Notably, in 2019, some right-wing organisations had distributed the biography of Savarkar in government-run schools, which had prompted the Kamal Nath-led Congress government to take action against school administration.