North India
Satisfying likely new alliance partners a challenge for BJP in Bihar
There is a buzz in Bihar that BJP wants to repeat the formula of 2014 in 2024. It had contested 30 seats, giving seven seats to Lok Janshakti Party led by Ram Vilash Paswan and three seats to Rashtriya Lok Samata Party (RLSP) led by Upendra Kushwaha.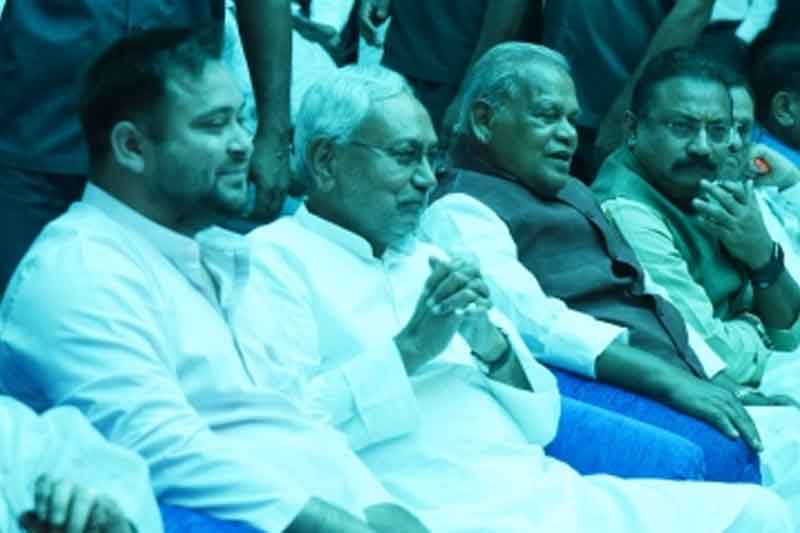 Patna: After separation of Jitan Ram Manjhi from Mahagathbandhan, BJP is now looking at an opportunity to destabilise Bihar government led by Nitish Kumar and Lalu Prasad Yadav. However, the party is having a headache to satisfy its probable alliance partners.
There is a buzz in Bihar that BJP wants to repeat the formula of 2014 in 2024. It had contested 30 seats, giving seven seats to Lok Janshakti Party led by Ram Vilash Paswan and three seats to Rashtriya Lok Samata Party (RLSP) led by Upendra Kushwaha.
At that time, NDA had won 31 seats including 22 by BJP, six by LJP and three RLSP.
The current NDA in Bihar comprises only BJP and Pasupati Kumar Paras led Rashtriya Lok Janshakti Party (RLJP). Now the bigger question is can BJP depend only on Pashupati Kumar Paras? The answer is no. The actual voters of late Ram Vilash Paswan are with his son Chirag Paswan and hence BJP wants Chirag Paswan in its side.
Chirag Paswan is with BJP but he is absolutely anti against his uncle Pasupati Kumar Paras. A meeting in this regard had happened in the official residence of Giriraj Singh in New Delhi a couple of days ago where the BJP Bihar unit was advocating for four seats to Chirag Paswan led LJPR and two seats to Pasupati Kumar Paras led RLJP.
Chirag Paswan knew his strength, hence he demanded six Lok Sabha seats and one Rajya Sabha seat as he doesnot want the BJP to give his quota of seats to Paras. Chirag Paswan also wishes to contest election from Hajipur Lok Sabha seat which means he wants to hit the final nail in the coffin of Pasupati Kumar Paras.
Now, Upendra Kushwaha-led Rashtriya Lok Janata Dal (RLJD) has sealed a deal with BJP as per which it may contest two to three seats. He himself had contested election from Karakat Lok Sabha constituency where he won in 2014.
So if BJP will contest on 30 seats and six seats will be given to Chirag Paswan then it could be difficult to accommodate Pasupati Kumar Paras especially when it has already promised two to three seats to Upendra Kushwaha.
Besides these three, BJP has to accommodate Mukesh Sahani-led Vikassheel Insaan Party (VIP) and Jitan Ram Manjhi as well.
Mukesh Sahani already announced that if he will go with the NDA, his seats would be similar to Chirag Paswan-led LJPR and if he would go with the Mahagathbandhan, his seats would not be less than Congress party. Mukesh Sahani faced a setback when he contested on 11 seats in 2020 assembly election under the quotas of BJP and managed to win four seats. Interestingly, the candidates of VIP who had won that election were from BJP and three of them later on March 23, 2022 merged to BJP. After their inclusion, the BJP claimed that they had returned home.
In that case, the smaller parties like LJPR, RLJP, RLJD, VIP or HAM would not give the tickets to candidates with BJP background and also not disclose the names of the candidates till the last minutes.
Jitan Ram Manjhi was separated from Mahagathbandhan as he was demanding five seats. Now there is a buzz in Bihar that Jitan Ram Manjhi is demanding at least three Lok Sabha seats and a post of governor for himself.
If BJP would give a post of governor to Jitan Ram Manjhi before Lok Sabha election, then he would not be able to campaign in the election and his son Santosh Kumar Suman has not established himself as a leader of dalit community that everyone would accept him. In case, Jitan Ram Manjhi would be offered one seat and if he would accept it then he would be on the losing side as his son had already sacrificed the post of cabinet minister. One seat was also offered by the Mahagathbandhan.
Now, BJP is looking to repeat the formula of 2014 Lok Sabha election in Bihar as it is a cadre-based party and Panna Pramukh (One person is assigned to look after one page of voter list at the one polling booth) is the biggest asset. Since its cadre has been strengthened now than in 2014, the BJP wants to contest maximum seats in Bihar.
The election is also a game of perception and every political party knows it. BJP leaders know that they are challenging mighty Lalu Prasad Yadav and Nitish Kumar in Bihar and no one in its possible alliance partners have similar stature than these two. Hence, if BJP would contest on lesser seats, the message goes loud and clear that the world's biggest party is dependent on smaller parties in Bihar.
So, BJP has a huge challenge at hand to accommodate all alliance partners and keep respectable number of seats for itself as well.
There was a perception during the 2014 Lok Sabha election to change the Congress government. But this time, BJP is facing a huge anti-incumbency of nine years' ruling of Narendra Modi government with issues like unemployment, price rise, farmers' problems, etc. The general perception among common voters is that the Modi government promised something and delivered just the opposite as none of the promises were met.
Political experts, however, believe that besides Chirag Paswan, none of the leaders have the capacity to transform the votes of his party to another party, so, Upendra Kushwaha, Mukesh Sahani, Jitan Ram Manjhi and even Pasupati Kumar Paras are not in bargaining positions.
In the last Lok Sabha election, Upendra Kushwaha contested from Karakat and Ujiyarpur and lost both the seats. Mukesh Sahani lost his own seat in the 2020 assembly election. Even in bypolls, his party performed miserably. Jitan Ram Manjhi has not a good track record in Lok Sabha election either. However, Pasupati Kumar Paras contested last time from Hajipur and won the seat as Ram Vilash Paswan was alive then and people voted on his face.
"They may be accommodated in other places, but I don't believe that they are capable of winning more than one seat on their own faces," a political pundit said.
"In Dalit politics, only Ram Vilash Paswan and now Chirag Paswan have the capacity to transform Paswan vote banks to other parties. In the last few months, the popularity of Chirag Paswan has increased more than any other leader – even of BJP Bihar unit chief," the political expert added.
When Contacted, Samrat Chaudhary, the BJP state President of Bihar unit told IANS: "We have an alliance only with Pashupati Kumar Paras and no other alliances have happened yet. So, the only top leadership of Delhi can answer on it."